NBA
USA Sports
$20 Million 'Clueless' Star Gifts Son a Signed Giannis Antetokounmpo Jersey Showing Greek Superstar's Incredible Reach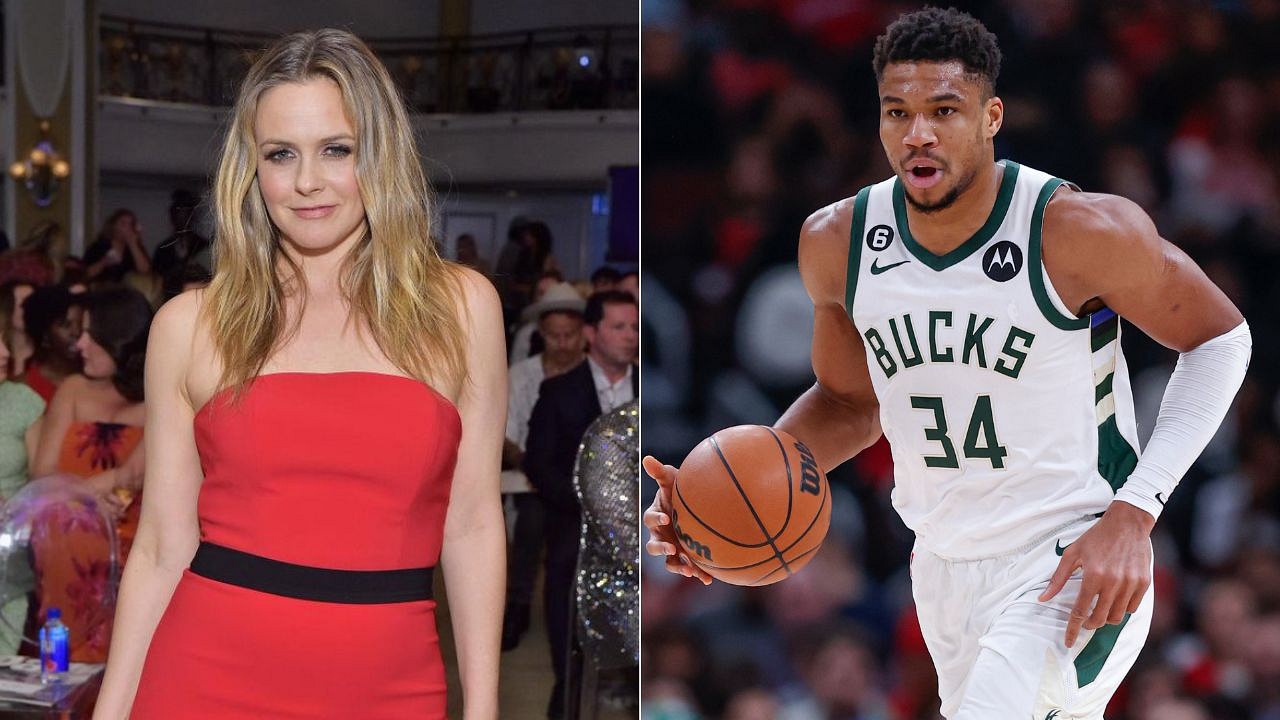 When drafted by the Milwaukee Bucks in 2013, Giannis Antetokounmpo wasn't projected to be the superstar he is today. In fact, not many even knew who the Greek Freak was when picked up by the Wisconsin-based franchise with their 15th pick.
Little did anyone know that the Bucks' big man would end up becoming one of the greatest forwards in the game's history. Almost a decade after his arrival to the league, Antetokounmpo has racked up quite the resume, good enough to get him a spot in the prestigious Hall-Of-Fame.
Among others, Giannis is a 6-time All-Star, 6-time All-NBA player, 5-time All-Defensive player, the 2017 MIP, the 2020 DPOY, a 2-time MVP, an NBA champ, and also the 2021 Finals MVP.
Also Read: Giannis Antetokounmpo's 'Skittles' Obsessions Might Push Him Down Dwight Howard's 5000 Calorie Diet
Giannis Antetokounmpo is making basketball more global than ever
Thanks to his improvements year after year, Giannis has become one of the best players in the world. Apart from being an NBA legend, the future HOFer is a favorite among fans from all over the world.
His contributions to the league play a huge role in the NBA being a more global organization than ever before. And while the likes of Kobe Bryant and LeBron James were among the top pick for jersey choices, Antetokounmpo has been changing the perspective of basketball being an American sport.
The Greek Freak surprises American actress' son
Alicia Silverstone, an American actress, recently surprised her 11-year-old son with one of the most memorable gifts of his life.
For Hanukkah, the Clueless actress managed to gift Bear a signed Giannis Antetokounmpo jersey.
As seen in the video the $20 million-worth star posted on her Instagram, Bear merely thought he was getting "clothes" as a gift. However, his expression completely changed when seeing the Milwaukee Bucks jersey.
Antetokounmpo is truly classy for this act. And goes without saying, Bear is going to be cherishing this piece of cloth for the remainder of his life.
Also Read: 7ft Giannis Antetokounmpo Registers First Back-To-Back 40/20 Games Since Moses Malone in 1982