NFL
Aaron Rodgers trade rumors, plus Tom Brady to play himself in a movie and Troy Aikman on verge of a new job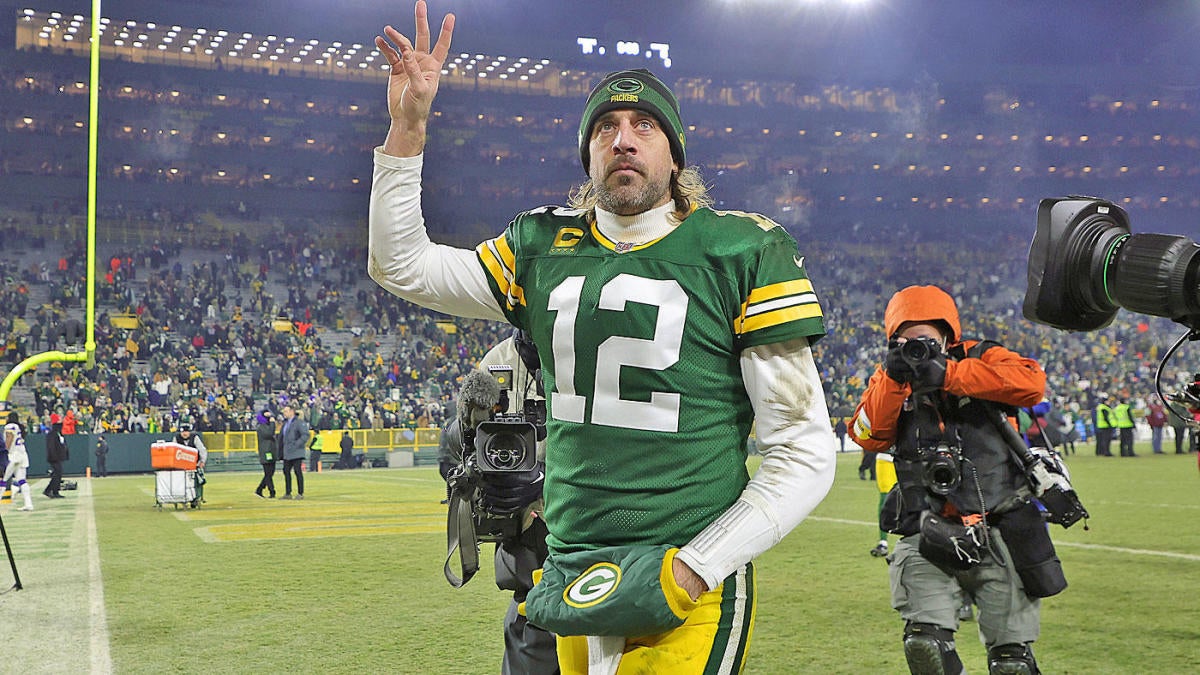 Welcome to the Thursday edition of the Pick Six newsletter!
With the combine right around the corner and free agency just three weeks away, I didn't think we'd be spending half the newsletter today talking about retired quarterbacks, but yup, that's about to happen. Not only did Tom Brady manage to sneak into today's newsletter, but we'll also be talking about Troy Aikman, who seems to be on the verge of leaving Fox after 21 seasons with the network. 
Of course, we'll also have plenty of news about nonretired quarterbacks, like Aaron Rodgers, because when do we not talk about Aaron Rodgers here? If anyone is doing a 12-day Panchakarma, please let me know. If you don't know what a Panchakarma is, trust me, that's for the best. Alright, let's get to the rundown.  
As always, here's your weekly reminder to tell all your friends to sign up for the newsletter, especially if one of your friends is Aaron Rodgers. All you have to do is click here and then share the link. 
1. Today's show: Ranking the top 25 defensive free agents
Earlier this week, we unveiled our list of the top 25 defensive free agents for 2022 and if you missed our list, I have some good news for you: We went over it again for today's episode of the Pick Six Podcast. The man who wrote the list, Tyler Sullivan, joined Will Brinson and they broke down the biggest names on the list and where those guys might end up for the upcoming season. 
Here' s a look at the top five names on the list along with a guess from either Sullivan or Brinson on where they'll end up. 
1. OLB Von Miller (Rams): "I don't think the Rams are going to give him the franchise tag, but ultimately, I think he's going to re-sign with the Rams." — Sullivan. 
2. OLB Chandler Jones (Cardinals): "The Chargers could make a ton of sense, [they have] a ton of cap space, could be an option." — Sullivan. 
3. CB J.C. Jackson (Patriots): "I don't know if the Patriots are willing to spend that much money [to keep Jackson]. … I think Jackson hits the open market." — Sullivan on why he doesn't think it's likely that Jackson will be staying in New England. 
4. FS Marcus Williams (Saints): "I'd be surprised if the Saints tag him, I would expect Williams hits free agency [due to the Saints salary cap situation]." — Brinson. 
5. FS Jessie Bates (Bengals): "I would be shocked if the Bengals let him walk. I think that's a clear-cut franchise tag situation [if they don't get a long-term deal done]." — Brinson on why Bates will likely end up staying in Cincinnati. 
To listen to today's episode — and to hear what the guys had to say about all 25 of the top defensive free agents — be sure to click here. You can also watch today's episode on YouTube by clicking here. 
2. Aaron Rodgers trade rumors have started
Just when you thought the week couldn't get any crazier for the Packers, it seems like it's actually about to get crazier. For one, the Aaron Rodgers trade rumors have now started and it should be noted that they started less than 24 hours after Packers GM Brian Gutekunst held a very eye-opening press conference. 
Here's a look at what has transpired in Green Bay over the past 24 hours: 
Gutekunst says he never promised to trade Aaron Rodgers. When the Packers QB reported to training camp last July, there were multiple reports suggesting that the only reason the Packers were able to convince him to show up is because they promised to trade him after the 2021 season if he didn't want to be in Green Bay anymore. If that's the case, then Gutekunst has officially made things awkward, because he said on Wednesday that he never made such a promise, "That was not something I told him," the GM said, via ESPN.com. 
Potential fallout from that one comment. If the Packers did promise Rodgers a potential trade and now Gutekunst is pulling that option off the table, that's definitely something that could rub Rodgers the wrong way. If Rodgers is on the fence about returning, the comments from Gutekunst could push him over the edge, and not in a good way.
Trade offers for Rodgers already on the table. According to an ESPN.com report from today, multiple teams have ALREADY called the Packers and made a trade offer for Rodgers, which means if he does want to be traded, it's going to be pretty easy for Green Bay to get a deal done. 
Rodgers' decision is expected soon, but he doesn't have a deadline. The QB said in late January that he'd like to make a decision by the time the franchise window closes, so it's likely we'll be hearing from him by March 8 and it's even possible we'll hear something this week. That being said, if he doesn't make a decision by March 8, the Packers won't be rushing him and that's because Gutekunst has said they're not going to put a deadline on their star QB. 
The Davante Adams situation could throw a wrench in everything. If Rodgers is waiting to see how Adams' situation plays out, he could be waiting for awhile. According to the Milwaukee Journal-Sentinel, Adams and the Packers haven't yet sat down for a single meeting this offseason. Although it's widely believed that Adams will remain in Green Bay, Gutekunst admitted on Wednesday that the Packers losing their star receiver in free agency is definitely a possibility. If Adams does leave Green Bay, you have to think that will weigh on Rodgers. If the QB doesn't like the way Adams gets treated in negotiations, he might factor that into his own decision whether to stay or go. 
Basically, what all this means is that you should probably just go ahead and assume you'll be reading a lot about the Packers in this newsletter over the next few weeks. If Rodgers does decide he wants out of Green Bay, here's a list of 11 landing spots that could make sense. 
3. Looking at the 10 teams with the smallest amount of salary cap space and what they can do in free agency
If you're a fan of a team with a lot of salary cap space, then free agency is an exciting time, because you know your team will try to add one or two key players. On the other hand, if your favorite team is $50 million over the salary cap (I'm looking at you, Saints fans), then free agency is just a giant tease because you know your team is not going to be able to get into a bidding war for any top free agents. 
However, just because a team is way over the cap doesn't mean they can't fix their financial problems. With free agency still 20 days away, Cody Benjamin took a look at what some of the most cap-strapped teams can do to free up some space before the official start of free agency on March 16. 
Here are his suggestions for the three teams in the worst shape: 
SAINTS
Projected over the cap: $76.2 million
Potential restructures: QB Taysom Hill ($7.3M), OT Ryan Ramczyk ($14.6M), DE Cameron Jordan ($10.9M), CB Marshon Lattimore ($18.5M)
Potential cuts: RB Mark Ingram ($2.3M), DT David Onyemata ($3.8M), CB Bradley Roby ($9.5M), S Malcolm Jenkins ($3.8M), K Wil Lutz ($1.7M)
Potential trades: RB Alvin Kamara ($5.5M), WR Michael Thomas ($2M)
My take: All I have to say about the Saints is that I'm glad I'm not the general manager of the Saints. 
PACKERS
Projected over the cap: $31.9 million
Potential extensions: QB Aaron Rodgers ($21.1M), CB Jaire Alexander ($9.8M)
Potential restructures: OT David Bakhtiari ($8.2M), OT Billy Turner ($3.5M), S Adrian Amos ($4.8M)
Potential cuts: TE Marcedes Lewis ($2.4M), DE Dean Lowry ($4M), OLB Za'Darius Smith ($15.3M), 
Potential trades: OLB Preston Smith ($12.5M)
My take: Although the Packers appear to be in bad shape, they'll be able to free up some serious money by restructuring Rodgers, but that will only work if he decides to stick around. They've already restructured Aaron Jones, clearing $3M in the process. Releasing Za'Darius Smith would also free up a ton of cap room. Basically, the Packers aren't in great shape, but their cap situation is very fixable as long as Rodgers decides to stay. 
COWBOYS
Projected over the cap: $22.2 million
Potential restructures: QB Dak Prescott ($15.2M), OG Zack Martin ($7.1M)
Potential cuts: DE DeMarcus Lawrence ($8M), K Greg Zuerlein ($2.5M)
Potential trades: WR Amari Cooper ($16M)
My take: The bottom line here is that cutting or trading Cooper would be the easiest way to free up a lot of money, which is one reason why you should keep an eye on what the Cowboys do with their star receiver this offseason. 
To check out Cody's entire story, which includes a total of 10 teams, be sure to click here. 
4. Tom Brady to play Tom Brady in a movie somewhat about Tom Brady
If Tom Brady decides to return to football in 2022, that means he's going to have to retire from his new career and it seems that his new career is making movies. According to The Hollywood Reporter — and yes, I think this is the first time I've ever cited The Hollywood Reporter in this newsletter — Brady is set to produce and play himself in a Paramount movie. 
Here are the details we know about the movie: 
The film will be called 80 for Brady. The premise of the movie is that four older women, who all happen to be Patriots fans, decide to take a "life-changing" trip to see the Patriots play in Super Bowl LI (That's the one where the Falcons blew a 28-3 lead). The twist here is that the movie is inspired by a true story. 
Brady will be joined on the silver screen by Lily Tomlin, Jane Fonda, Rita Moreno and Sally Field, who will be playing the four women. 
The release date for the film hasn't been officially announced, but production on the movie will be begin in the spring, which means it will likely be released at some point in 2023. 
Brady's new production company, 199 Productions, will help produce the movie. 
If Brady's movie career is just half as successful as his NFL career, then I'm guessing this film will pull in roughly $800 million. 
5. Troy Aikman on the verge of leaving Fox for ESPN
The most surprising free agency move of the offseason might not involve an NFL team and that's because Troy Aikman appears to be on the verge of leaving Fox, where he's spent the past 21 seasons as an announcer. 
In a seismic move that could cause a huge ripple across the media landscape, the New York Post is reporting that Aikman is finalizing a deal with ESPN to make the move to "Monday Night Football."
Here are the details on the situation: 
ESPN is paying big. According to the Post, Aikman is expected to be getting a deal that will pay him more than $17.5 million per year, which would be more than double what he was reportedly making with Fox. Since Jon Gruden left "MNF" after the 2017 season, ESPN has been trying to get a big name in the booth and it appears they're about to get that done. 
Who will join Aikman in the ESPN booth? Right now, Steve Levy is the play-by-play guy, but it's starting to seem like he won't stick around on Mondays. One option being considered by ESPN is the addition of Aikman's partner over at Fox, Joe Buck. Buck's contract expires after the 2022 season and it's possible ESPN might try to pry him out of that deal a year early, according to the Post. ESPN also could take a look at Al Michaels, who's currently being courted by Amazon to host "Thursday Night Football."
Big hole at Fox. Aikman has been the network's No. 1 announcer since 2001, which means Fox now has a hole to fill in its top spot for the first time in two decades. According to the Post, Fox will likely take a look at No. 2 announcer Greg Olsen, but they also might make a play for Sean Payton. Two other guys on Fox's wish list are Sean McVay and Drew Brees, but it's unclear if Fox would be able to get either guy. 
The only odd thing about this decision is that it means ESPN will be paying Aikman and the Manning brothers a lot of money to compete against each other for eyeballs on the Monday night broadcast. Peyton and Eli recently extended the contract for their Monday night ManningCast to go through the 2024 season. 
6. Rapid-fire roundup: Deshaun Watson drawing interest from multiple teams
It's been a busy 24 hours in the NFL, and since it's nearly impossible to keep track of everything that happened, I went ahead and put together a roundup for you. 
Multiple teams would trade for Deshaun Watson without civil cases being settled. According to PFT, multiple teams are willing to trade for Watson once the criminal cases are out of the way. The Texans QB is currently dealing with 22 overall cases with nine of those being criminal cases. If he can get the nine criminal cases settled in the near future, then it's likely a trade will go down at some point this offseason. 
Andrew Whitworth leaning toward retirement. The Rams left tackle, who became the first 40-year-old ever to start for an NFL team on the offensive line, sounds like he's going to retire. Whitworth hasn't made an official decision yet, but based on recent comments, it's pretty clear he's leaning toward calling it quits. 
Saints are going to have co-defensive coordinators. The Saints are going to be doing something this year that no other NFL team will be doing: They're going to have CO-defensive coordinators. The team has announced that Ryan Nielsen will be a co-defensive coordinator/defensive line coach while Kris Richard will serve as co-defensive coordinator/secondary coach. Head coach Dennis Allen was the team's defensive coordinator last season so if the Saints are bad on defense this year, they're going to have to fire everyone. 
Big week for Odell Beckham. Not only did Beckham finally undergo surgery on his torn ACL, but he also had some bigger news go down this week: He welcomed a baby into the world with his girlfriend, Lauren Wood. You can see a picture of the couple with their new baby by clicking here. 
Chiefs-Buccaneers could be first game in Germany. This is just a rumor right now, but we love rumors, so we're going to share it. According to a website in Germany — and yes, I think this is the first time I've ever cited a German-language website in this newsletter — the Chiefs and Buccaneers seem to be the front-runners to play the NFL's first-ever game in Munich. This game would make a lot of sense and that's because these were two of the four teams that were awarded international marketing rights to Germany back in December. 
require.config({"baseUrl":"https://sportsfly.cbsistatic.com/fly-0168/bundles/sportsmediajs/js-build","config":{"version":{"fly/components/accordion":"1.0","fly/components/alert":"1.0","fly/components/base":"1.0","fly/components/carousel":"1.0","fly/components/dropdown":"1.0","fly/components/fixate":"1.0","fly/components/form-validate":"1.0","fly/components/image-gallery":"1.0","fly/components/iframe-messenger":"1.0","fly/components/load-more":"1.0","fly/components/load-more-article":"1.0","fly/components/load-more-scroll":"1.0","fly/components/loading":"1.0","fly/components/modal":"1.0","fly/components/modal-iframe":"1.0","fly/components/network-bar":"1.0","fly/components/poll":"1.0","fly/components/search-player":"1.0","fly/components/social-button":"1.0","fly/components/social-counts":"1.0","fly/components/social-links":"1.0","fly/components/tabs":"1.0","fly/components/video":"1.0","fly/libs/easy-xdm":"2.4.17.1","fly/libs/jquery.cookie":"1.2","fly/libs/jquery.throttle-debounce":"1.1","fly/libs/jquery.widget":"1.9.2","fly/libs/omniture.s-code":"1.0","fly/utils/jquery-mobile-init":"1.0","fly/libs/jquery.mobile":"1.3.2","fly/libs/backbone":"1.0.0","fly/libs/underscore":"1.5.1","fly/libs/jquery.easing":"1.3","fly/managers/ad":"2.0","fly/managers/components":"1.0","fly/managers/cookie":"1.0","fly/managers/debug":"1.0","fly/managers/geo":"1.0","fly/managers/gpt":"4.3","fly/managers/history":"2.0","fly/managers/madison":"1.0","fly/managers/social-authentication":"1.0","fly/utils/data-prefix":"1.0","fly/utils/data-selector":"1.0","fly/utils/function-natives":"1.0","fly/utils/guid":"1.0","fly/utils/log":"1.0","fly/utils/object-helper":"1.0","fly/utils/string-helper":"1.0","fly/utils/string-vars":"1.0","fly/utils/url-helper":"1.0","libs/jshashtable":"2.1","libs/select2":"3.5.1","libs/jsonp":"2.4.0","libs/jquery/mobile":"1.4.5","libs/modernizr.custom":"2.6.2","libs/velocity":"1.2.2","libs/dataTables":"1.10.6","libs/dataTables.fixedColumns":"3.0.4","libs/dataTables.fixedHeader":"2.1.2","libs/dateformat":"1.0.3","libs/waypoints/infinite":"3.1.1","libs/waypoints/inview":"3.1.1","libs/waypoints/jquery.waypoints":"3.1.1","libs/waypoints/sticky":"3.1.1","libs/jquery/dotdotdot":"1.6.1","libs/jquery/flexslider":"2.1","libs/jquery/lazyload":"1.9.3","libs/jquery/maskedinput":"1.3.1","libs/jquery/marquee":"1.3.1","libs/jquery/numberformatter":"1.2.3","libs/jquery/placeholder":"0.2.4","libs/jquery/scrollbar":"0.1.6","libs/jquery/tablesorter":"2.0.5","libs/jquery/touchswipe":"1.6.18","libs/jquery/ui/jquery.ui.core":"1.11.4","libs/jquery/ui/jquery.ui.draggable":"1.11.4","libs/jquery/ui/jquery.ui.mouse":"1.11.4","libs/jquery/ui/jquery.ui.position":"1.11.4","libs/jquery/ui/jquery.ui.slider":"1.11.4","libs/jquery/ui/jquery.ui.sortable":"1.11.4","libs/jquery/ui/jquery.ui.touch-punch":"0.2.3","libs/jquery/ui/jquery.ui.autocomplete":"1.11.4","libs/jquery/ui/jquery.ui.accordion":"1.11.4","libs/jquery/ui/jquery.ui.tabs":"1.11.4","libs/jquery/ui/jquery.ui.menu":"1.11.4","libs/jquery/ui/jquery.ui.dialog":"1.11.4","libs/jquery/ui/jquery.ui.resizable":"1.11.4","libs/jquery/ui/jquery.ui.button":"1.11.4","libs/jquery/ui/jquery.ui.tooltip":"1.11.4","libs/jquery/ui/jquery.ui.effects":"1.11.4","libs/jquery/ui/jquery.ui.datepicker":"1.11.4"}},"shim":{"liveconnection/managers/connection":{"deps":["liveconnection/libs/sockjs-0.3.4"]},"liveconnection/libs/sockjs-0.3.4":{"exports":"SockJS"},"libs/setValueFromArray":{"exports":"set"},"libs/getValueFromArray":{"exports":"get"},"fly/libs/jquery.mobile-1.3.2":["version!fly/utils/jquery-mobile-init"],"libs/backbone.marionette":{"deps":["jquery","version!fly/libs/underscore","version!fly/libs/backbone"],"exports":"Marionette"},"fly/libs/underscore-1.5.1":{"exports":"_"},"fly/libs/backbone-1.0.0":{"deps":["version!fly/libs/underscore","jquery"],"exports":"Backbone"},"libs/jquery/ui/jquery.ui.tabs-1.11.4":["jquery","version!libs/jquery/ui/jquery.ui.core","version!fly/libs/jquery.widget"],"libs/jquery/flexslider-2.1":["jquery"],"libs/dataTables.fixedColumns-3.0.4":["jquery","version!libs/dataTables"],"libs/dataTables.fixedHeader-2.1.2":["jquery","version!libs/dataTables"],"https://sports.cbsimg.net/js/CBSi/app/VideoPlayer/AdobePass-min.js":["https://sports.cbsimg.net/js/CBSi/util/Utils-min.js"]},"map":{"*":{"adobe-pass":"https://sports.cbsimg.net/js/CBSi/app/VideoPlayer/AdobePass-min.js","facebook":"https://connect.facebook.net/en_US/sdk.js","facebook-debug":"https://connect.facebook.net/en_US/all/debug.js","google":"https://apis.google.com/js/plusone.js","google-platform":"https://apis.google.com/js/client:platform.js","google-csa":"https://www.google.com/adsense/search/async-ads.js","google-javascript-api":"https://www.google.com/jsapi","google-client-api":"https://apis.google.com/js/api:client.js","gpt":"https://securepubads.g.doubleclick.net/tag/js/gpt.js","hlsjs":"https://cdnjs.cloudflare.com/ajax/libs/hls.js/1.0.7/hls.js","newsroom":"https://c2.taboola.com/nr/cbsinteractive-cbssports/newsroom.js","recaptcha":"https://www.google.com/recaptcha/api.js?onload=loadRecaptcha&render=explicit","recaptcha_ajax":"https://www.google.com/recaptcha/api/js/recaptcha_ajax.js","supreme-golf":"https://sgapps-staging.supremegolf.com/search/assets/js/bundle.js","taboola":"https://cdn.taboola.com/libtrc/cbsinteractive-cbssports/loader.js","twitter":"https://platform.twitter.com/widgets.js","video-avia":"https://vidtech.cbsinteractive.com/avia-js/1.14.0/player/avia.min.js","video-avia-ui":"https://vidtech.cbsinteractive.com/avia-js/1.14.0/plugins/ui/avia.ui.min.js","video-avia-gam":"https://vidtech.cbsinteractive.com/avia-js/1.14.0/plugins/gam/avia.gam.min.js","video-ima3":"https://imasdk.googleapis.com/js/sdkloader/ima3.js","video-ima3-dai":"https://imasdk.googleapis.com/js/sdkloader/ima3_dai.js","video-utils":"https://sports.cbsimg.net/js/CBSi/util/Utils-min.js","video-vast-tracking":"https://vidtech.cbsinteractive.com/sb55/vast-js/vtg-vast-client.js"}},"waitSeconds":300});