Tennis
Alex Michelsen Turns In Rare FILA Easter Bowl Double Winning ITF Singles Title Sunday; Alexis Blokhina Beats Reese Brantmeier in 3rd Tiebreaker For Girls' ITF Crown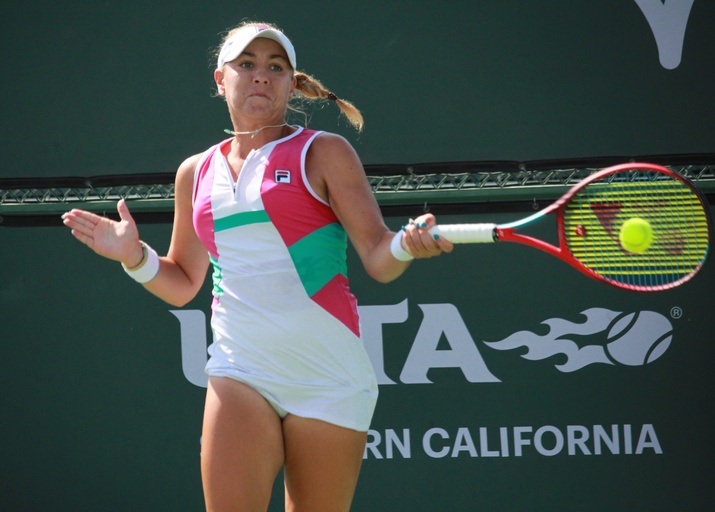 [ad_1]

INDIAN WELLS, Calif. (April 3, 2022) – Aliso Viejo's Alex Michelsen turned in a magnificent FILA Easter Bowl double this past weekend become the first player at the event since Donald Young in 2006 to win both the ITF singles and doubles titles at the Indian Wells Tennis Garden.
The 17-year-old high school junior and No. 8-seeded Michelsen, who is headed to the University of Georgia in 2023, played error-free tennis in beating one of the tournament's hottest players in No. 2-seeded Nishesh Basavareddy of Carmel, Ind., on Sunday, 6-2, 6-3 for the singles title. On Saturday, Michelsen won the Boys' ITF doubles title with a 10-6 third-set super tiebreaker win with partner and best friend Sebastian Gorzny.
"Donald Young, really? I guess I'm in pretty good company," said the 6-foot-4 Michelsen afterwards. "If I played like that every time I would be very, very happy."
Michelsen added: "Nothing went wrong out there at all. I served well, the forehand was good, backhand was good, drop shots were good. It was one of those days when everything came together. I needed it because Nishesh has been playing unreal lately. By far it was the best I played all week."
With the victory, Michelsen punched his ticket to Paris next month as he needed to win Sunday for his ITF junior ranking to reach around No. 50 and qualify for the main draw of the Junior French Open, Wimbledon and US Open.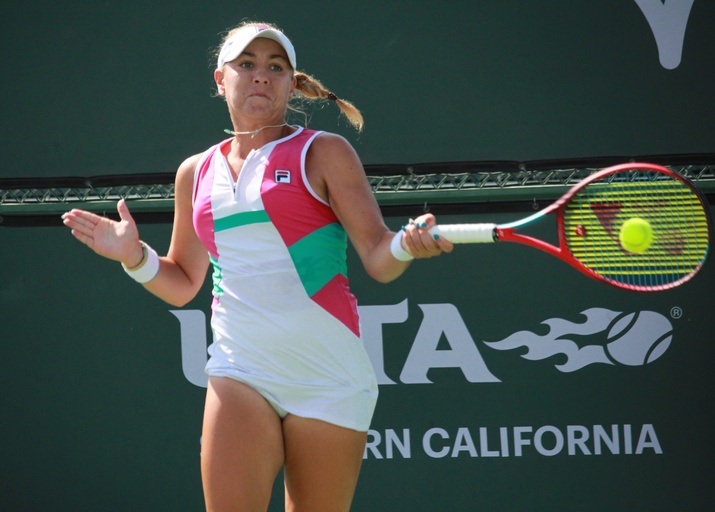 "I just sat by myself for an hour and a half during the girls' match and was just shutting it out and getting ready for the match because I know how I needed the points, and the wild cards, and all of that," Michelsen said. "I just came out firing."
The win avenged a loss in the 10-and-unders in a SoCal junior event won by Basavareddy before he moved to Indiana at age 8. "I didn't even think about that," Michelsen said since yesterday. We're 1-1 now."
The loss snapped an ITF Grade J1 18-match winning streak for the Stanford-bound Basavareddy. "I definitely think I made more errors than normal, but he just put a lot of extra pressure on me and made me hit a lot of extra balls," Basavareddy said.
"He was just really aggressive on the return and hitting it on the run," Basavareddy said. "He definitely out-played me but I think one thing I could have done better was serve a little bit better. And been a little more aggressive on his serve. But he just really played good today."
The win gave the TiER1 Performance Academy an unprecedented four USTA National gold ball winners on the boys' side with Michelsen's two, a 16s singles from Parashar Bharadwaj on Saturday and a 14s win in doubles from Gray Kelley.
In the Girls' ITF singles final, another future Stanford Cardinal No. 4 Alexis Blokhina of Plantation, Fla., outlasted No. 3 Reese Brantmeier of Whitewater, Wisc., in a tight back-and-forth battle, 6-3, 4-6, 7-6 (4). 
"I'm really thrilled and happy I could capitalize on this moment," said Blokhina, whose 15-year-old little brother Nathan warmed her up for the match.
It was the second career USTA Gold Ball for Blokhina, 17, who said she won her other one at the 14s Clay Courts.
A FILA-endorsed player since she was 14, Blokhina is coached by personal coach Marcus Fluitt and former Maria Sharapova Coach Michael Joyce when she's with the USTA in Orlando.
Brantmeier, 17, overcame two match points down 15-40 4-5, with Blokhina mis-hitting a forehand long to force deuce as Brantmeier, serving big at 106 mph, closed out the game to knot the score at 5-all. "She earned those points and she played well," Blokhina said.
Brantmeier opened the tiebreaker dumping an easy forehand return into the net and Blokhina stayed aggressive from there going up 4-1, and then 5-3 on a big serve and down-the-line winner forehand.
"I went up 6-3 and I had three points where I could swing a little bit more," said Blokhina.
Both players are taking their official college visits on Monday with Blokhina headed to Palo Alto, and Brantmeier to Chapel Hill on the day the Tar Heels men's basketball team plays Kansas for the NCAA title.
"I had a good week," said Brantmeier, who will turn her focus to the USTA Pro Circuit events in the coming month. "Alexis just came up with some good shots when she needed them. My first serve percentage was really low and that hurt me. I came here to compete and get a lot of matches, and I did that."
Photo Credit: Paul Ballard / Zoo Tennis


[ad_2]

Source link