NBA
USA Sports
Dwyane Wade, who was part of the "Redeem team", sees his son, Zaire Wade declare for DR Congo Instead of Team USA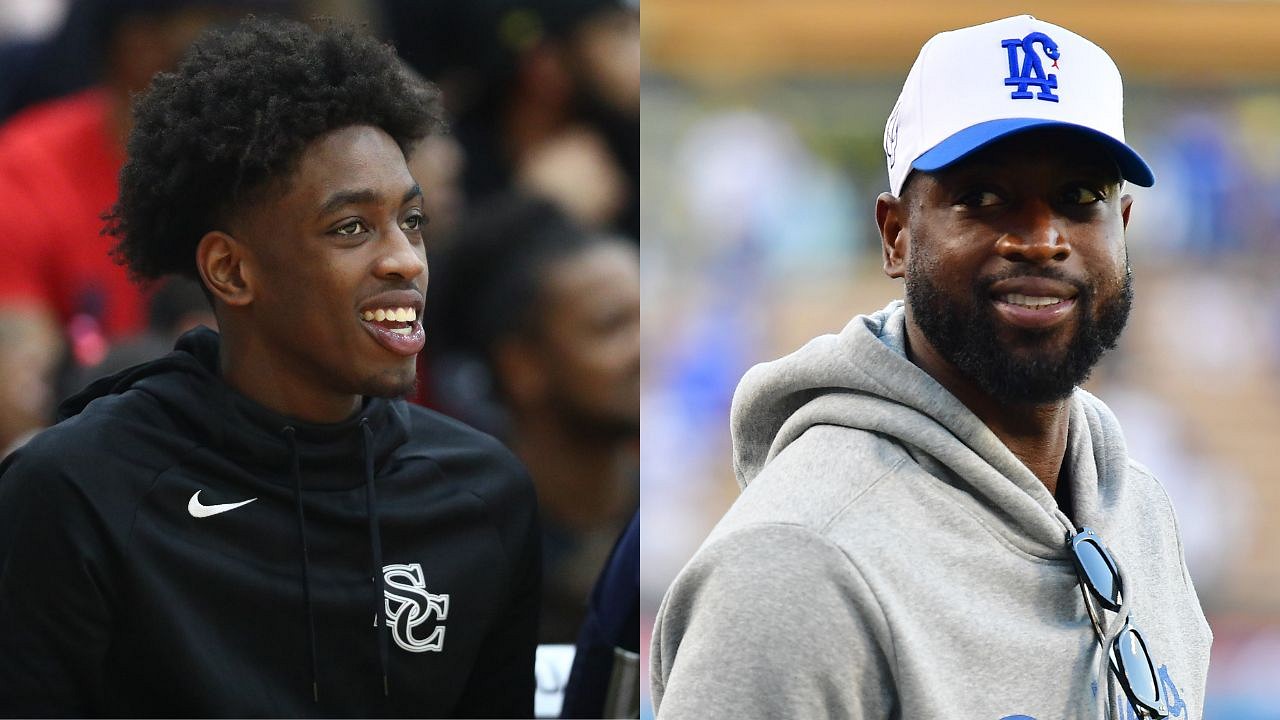 The US Olympic Basketball team has found great success in the 21st century. While they did have a disappointing start in the early 2000s, the emergence of several superstars turned things around. Dwyane Wade happened to be a part of the success.
Players like LeBron James, Kobe Bryant, Kevin Durant, Carmelo Anthony, and more propelled the team to five gold medals in the last six Olympic games. The only exception was the games in 2004, where they finished third.
Following that embarrassment though came the greatest US team since the 1992 Dream Team. A team that included NBA legend, Dwyane Wade, whose son, Zaire recently announced his intention to play for DR Congo.
Also Read: "Dallas Got Cheated in 2006 Finals": $4.6 Billion Worth Mark Cuban Is Still Hurt By the 'Poorly Officiated' Games Against Shaquille O'Neal and Dwayne Wade's Heat
Zaire Wade, the son of Dwyane Wade announces his interest in representing DR Congo
Dwyane Wade's time with the US Olympic team was legendary. Primarily due to his presence in the 2006 Redeem Team. The team won Olympic gold, further adding to Wade's resume which includes three NBA Championships and several All-NBA and All-Star selections.
Given his accomplishments in the sport, many have high expectations for The Flash's son, Zaire Wade. However, it does not look like Zaire will be going the same route in terms of international performances. After all, he recently announced his intention to represent DR Congo.
Zaire Wade, the son of Dwyane Wade, said he wants to play for DR Congo 🇨🇩@Zaire @LeopardsBasket #AfroBallers pic.twitter.com/kqVm2ZQzdA

— AfroBallers (@afroballers) December 30, 2022
Zaire's logic in declaring for Congo actually revolves around his name. Given the fact that Zaire was once the name for the Democratic Republic of Congo.
Reasons aside though, it will be interesting to see if the young Wade puts on a Congolese jersey. If he does, fans will be watching his performances closely.
Zaire Wade last played for the G-League team the Salt Lake City Stars
Zaire may have declared for DR Congo, but Dwyane Wade's eldest son hasn't been playing professional basketball for quite a while. He last played for the Salt Lake City Stars in the G-League, a team affiliated with the Utah Jazz. The team that D-Wade happens to be a part-owner of.
With the 10th overall pick in the @nbagleague Draft. The Salt Lake City Stars select Zaire Wade!!!

Welcome to SLC!! @zairewade21 pic.twitter.com/UKQoyzIMoY

— Salt Lake City Stars (@slcstars) October 23, 2021
It certainly will be interesting to see what Zaire has planned next. One thing is for sure, he will be hoping to make it to the NBA one day.
Also Read: Utah Jazz Owner and $170 Million Worth Dwyane Wade Names Michael Jordan's "Teammate" as Toughest Player he had to Guard