Cricket
From Virat Kohli to Yash Dhull: Meet Munish Bali who coached the 2008 & 2022 India u-19 World Cup teams | Cricket News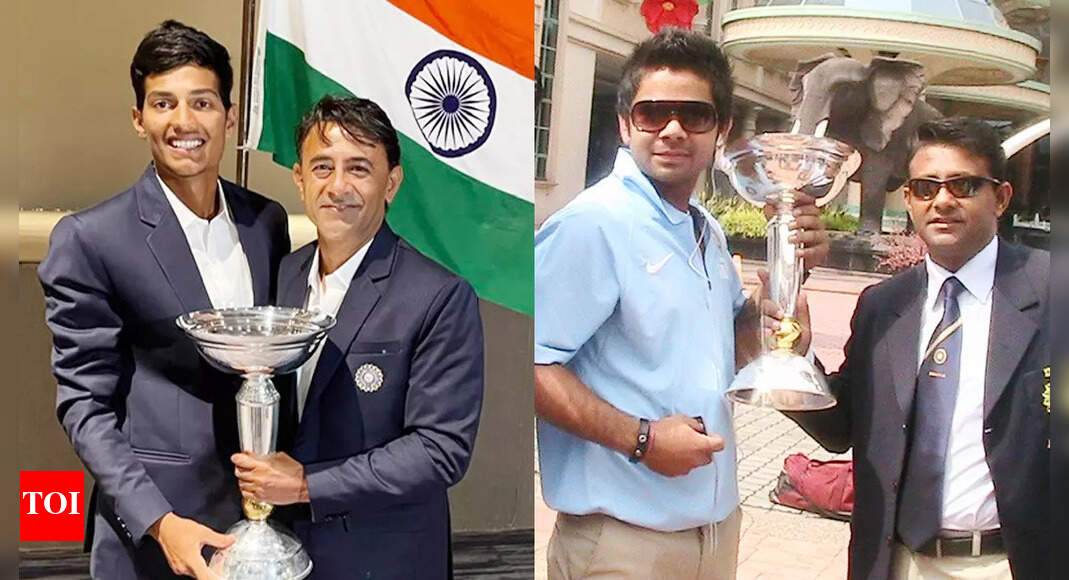 NEW DELHI:
Virat Kohli
and
Yash Dhull
have a few things in common. They are both ICC u-19
World Cup
winning captains. They are both batsmen, both are from Delhi and with Dhull shaping up to be quite the run machine, he finds more and more comparisons being drawn between him and Virat.
But there's another thing that binds the two and the two Indian u-19 World Cup winning teams of 2008 and 2022. The presence of coach
Munish Bali
in both camps, 14 years apart.
Bali has travelled with India's Under-19 cricket team twice for the World Cup and the young guns have returned with the coveted trophy on both occasions. Bali was the assistant coach of the victorious U-19 World Cup-winning cricket team of 2008, led by Virat Kohli. This year, he travelled as fielding coach and the Yash Dhull-led side lifted the prestigious trophy again. Coach Munish Bali
"Lucky charm (smiles). I don't know. I am happy that you are calling me that. The team of 2008 was way more experienced than this team (2022). Virat was already playing Ranji Trophy. Manish Pandey, Taruwar Kohli, Siddharth Kaul, Tanmay Srivastava, Abhinav Mukund, Ravindra Jadeja were already playing Ranji Trophy. They had the experience of playing competitive cricket. This team (of the 22022 edition) was raw. By raw I mean they haven't played much cricket in two years due to the pandemic. So, the challenge at this World Cup was bigger," Bali told TimesofIndia.com in an exclusive interview.
"Both the World Cup wins are special. I was the assistant coach in 2008 and there were many from that World Cup-winning team who went on to play for India (senior team). Virat became India captain and took Indian cricket to a different level. That win was special and this win was also special."
Flashback again to 2008 and Kohli's team had many star players. Some of them, including Kohli of course, Manish Pandey, Ravindra Jadeja, Abhinav Mukund, Siddarth Kaul, and Saurabh Tiwary went on to play for the senior India team. India U-19 team at 2008 World Cup
So what about this bunch of youngsters? A few of them including Dhull, Raj Angdad Bawa and Rajvardhan Hangargekar all found buyers at the recently concluded two day IPL auction. As someone who has seen multiple u-19 players up close and personal, does Bali feel some of these youngsters can also play for the senior India team some day? After all, there have been other u-19 World Cup winning players in the past who have fizzled out over the years.
"It is too early to say. This is just the start for them. They have to go a long way. After the win, we sat together and spoke about future plans. The doors will now open for them. All eyes will be on them now. It will totally depend on their performances. How they perform in Ranji Trophy and other domestic tournaments. Their performances in the domestic circuit will pave their way going forward. Apart from how they play, their work ethic will also play a big role. These young boys are talented, there is no doubt about that. I can foresee a good future for them," the 47 year old coach, who has playing experience with the State Bank of Patiala team, further told TimesofIndia.com.
"When Virat guided the 2008 India u-19 team to the World Cup win, we discussed the future plans with that team too. Many players from that team performed really well in the domestic circuit and got India call ups and many of those did well for the senior team (India). I wish the same for Yash, Rasheed, Bawa, and everyone in this team too," he added. India U-19 team at 2022 World Cup
Due to their superb show in the World Cup, some of India's U19 World Cup stars were the hot picks at the IPL 2022 auction.
Rajvardhan Hangargekar, who had a base price of Rs. 30 lakh, was picked by Mumbai Indians for Rs. 1.5 crore. Raj Angad Bawa, who claimed five wickets in the final and scored 35 runs, was bought by the Punjab Kings franchise for Rs 2 crore. Bawa was adjudged the Man of the Match in the final.
Yash Dhull, who recently became just the third Indian batter to score centuries in both innings of his Ranji Trophy debut, was picked by Delhi Capitals for Rs 50 lakhs.
More than the instant fame and IPL price tags though, what is important is that the young guns will now have a large platform to showcase their skills against some of the best cricket players from across the world.
"IPL has been a big platform for Indian cricket. IPL has given many chances to youngsters. They (youngsters) learn from star cricketers and take their game to the next level. They share dressing rooms with stars and get exposure. IPL has helped many cricketers make it to the senior team. The tournament has played a big role in grooming players. It will also help these players to grow and mature faster," Bali signed off.