College Football
USA Sports
Inside the world of 'collectives' using name, image and likeness to pay college athletes, influence programs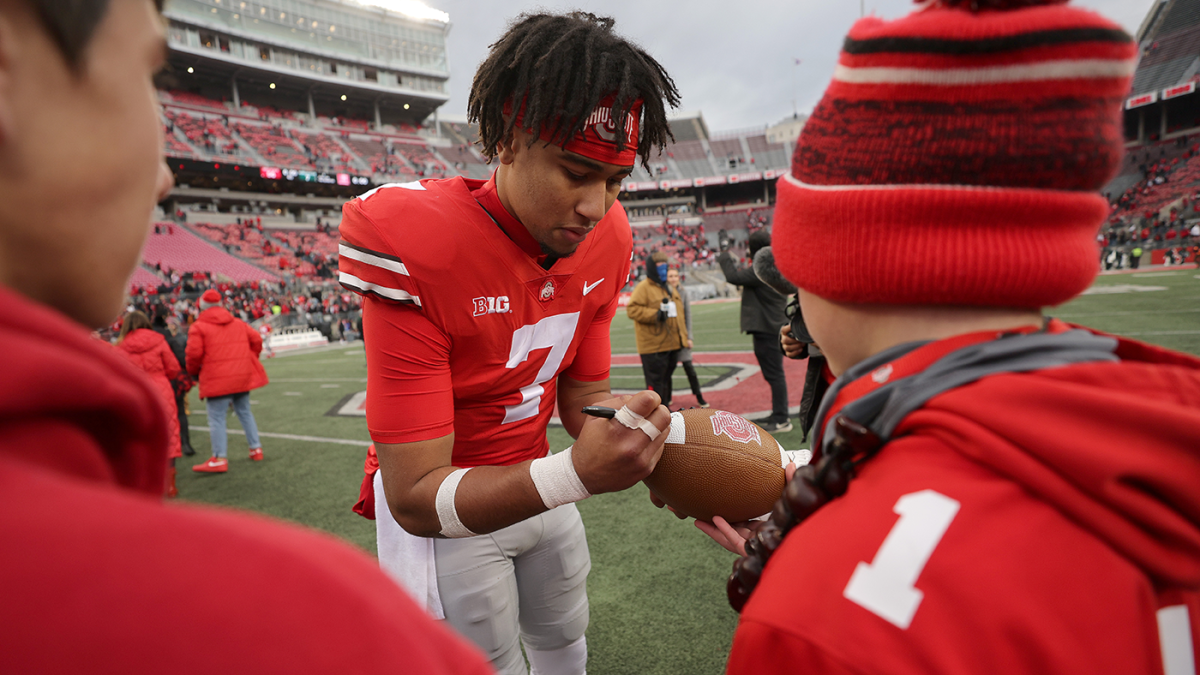 They've given themselves names that inspire the confidence large financial institutions use to pitch investors: trust … valiant … guardians. They are run by billionaires, entrepreneurs and accomplished financial advisors.
In the not-yet 7-month-old history college athletes being granted their full name, image and likeness rights, these groups have become the biggest influencers. Their cottage-industry businesses are called NIL "collectives" — stand-alone start-up companies established to create financial opportunities for athletes.
In some cases, collectives look a lot like major corporations with large staffs and budgets. Mostly unshackled by NCAA regulations, they have put their minds and resources together to funnel funds to athletes.
If that sounds crass, get over it. Collectives have become the opening number of a hit Broadway musical. The difference? The actors in this production are also fans.
"I'm about the confetti," said Eddie Rojas, CEO of The Gator Collective and an unabashed Florida honk who went 10-1 as a pitcher for the Gators from 1999 to 2001. "I want to create an environment where Florida becomes NIL-U."
Rojas, 44, is also CEO of his own company, 401K Generation. He has 16 years experience in portfolio management and pension consulting with his company currently managing $3.28 billion in assets. That confetti he's talking about? He's referring to the post-game stuff shot out of cannons celebrating national championships, a level of success he wants to help bring back to Florida.
To do his part in the NIL race, The Gator Collective has been established as a sort-of subscription service. Starting at $5.99 (up to $999.99) a month, Gators fans get exclusive autographs, interviews and even personal appearances.   
"Players will visit [fans] on their birthday," said Rojas proudly.
That's only scratching the surface. The Clark Field Collective at Texas is paying Longhorns offensive linemen $50,000 each … basically just for being Texas offensive linemen. To date, it has not been ruled to be an NCAA violation, but such boundary-straddling conduct by collectives are the talk of college athletics at the moment.
"Collectives," Texas A&M athletic director Ross Bjork said, "that's all I've heard for the last two weeks."
The brazenness of some offers is increasing. Former Eastern Michigan quarterback Charlie Batch tweeted earlier this month that a $1 million NIL deal awaits Oklahoma transfer quarterback Caleb Williams.
According to the Miami Herald, billionaire John Ruiz is paying at least 17 Miami Hurricanes players this year a total of approximately $550,000 to promote his businesses: Life Wallet (medical history app) and Cigarette Racing Team (boating). Quarterback Jake Garcia has signed a two-year contract worth $145,000. He threw 14 passes in 2021 as a freshman backup.
"If you're not doing it, it's so easy to get left behind," said former West Virginia AD Oliver Luck, who started Country Roads Trust for Mountaineers athletes along with Arizona Diamondbacks owner Ken Kendrick. "It's a good day to be a college athlete, I'll tell you that."
Collectives have emerged as NIL brokers of varying levels of sophistication. They can be part of a larger company as a for-profit or non-profit entity. In the vast majority of cases, there can be no relationship with a school. Collectives must remain a third party in the process.
"There is no legal meaning to it, but essentially, the theory around it is bringing together a number of individuals who support the university in an effort to organize and have strength in numbers to provide these NIL opportunities to players," said South Florida sports entertainment attorney Darren Heitner, who helped write the current NIL law in Florida.
NIL has allowed these collectives to manifest their CEO's desires to win in the marketplace, even if their school isn't winning on the field. The guardrails are few from a diminished NCAA that has lost power and influence in the space, mostly by ignoring the opportunity to allow NIL for decades.
The only NCAA rules: There can be no "play-for-play" defined as direct compensation for athletic accomplishment regarding NIL benefits. Also, the athletes have to do something for the money they're getting.
"Good luck to the NCAA or anybody to make that determination or hold anybody accountable on that" said Luck, the NCAA's one-time executive vice president for regulatory affairs.
Yes, sometimes it's a thin line of legitimacy.
"These donors aren't sophisticated enough to go to the athletes directly," said Blake Lawrence, CEO of Opendorse, an industry leader in creating NIL opportunities. "So, they pool their money."
"Would you rather pay Scott Frost's buyout," Lawrence added, "or would you rather take $10 million in booster money and go buy better players? That's what is going to happen."
"Buying" recruits is also prohibited by the NCAA, but it's obvious that high school prospects are watching as schools try to top each other in NIL.
In this landscape, boosters can accomplish — above board — what was previously a major NCAA violation. There are now approximately 20 collectives that have risen in the fog of NIL war, creating competition to provide financial opportunities for players.
Rojas' collective might have been the first. There is the Garnet Trust at South Carolina where supporters can win an "officially licensed South Carolina football" from defensive tackle Boogie Huntley. Incoming transfer quarterback Spencer Rattler has done an exclusive interview.
At Michigan, Valiant Management Group manages NIL opportunities that school's athletes. 6th Man Strategies does the same for all 18 Kansas basketball players. Illini Guardians is a non-profit NIL benefactor established "to remove the lure of financial gain as a business motivation".
"Get ready. That's all I can say," said Guardians contributor Creg McDonald in a press release. "We are going to make it known across the collegiate world that Illinois is a premier player in the NIL game."
An energy bar CEO at BYU caused a stir last when year when he paid for the tuition of the program's 30-plus walk-ons. That created not only a possible competitive disadvantage but a potential Title IX violation. One source told CBS Sports "dozens" of schools are looking into copying BYU.
"That's probably a reason the NCAA is poking around," said a source familiar with the situation.
The NCAA is already investigating BYU, Oregon and Miami, according to multiple reports. Sportico recently confirmed the NCAA is looking into an Oregon collective named Division Street Inc.
The BYU situation would essentially allow the Cougars to have 120 scholarship players. The NCAA limit is 85. You can see why coaches everywhere would be concerned or at least seeking to create a similar advantage at their school.
Sources indicate the schools have been more than cooperative, essentially asking NCAA enforcement officials, "Help us figure this out." There is the concern that NIL benefits could be interpreted as an inducement to woo a recruit or flat-out "play-for-play" — or both.
"It's too bad the NCAA didn't control the narrative," said Pat Kilkenny, an influential Oregon alumnus and former AD. "… The smarmy nature of what's going on. These kids are in power. It's taking away the charm of the business."
The empowerment has taken many forms. Should anyone be surprised that, for NIL purposes, athletes are allowed to be represented by NFL agents? Ruiz is suing the state high school association and the NCAA over athletes' ability to earn compensation.
Remember, the NCAA views the current NIL structure as only an interim solution.
"We're going to take it to them," Ruiz said.
There is the underlying concern that these influencers essentially have undue sway in athletic departments. The so-called "privatization" of college athletics is a reality.
Consider that two boosters fully guaranteed the $95 million salary of Michigan State coach Mel Tucker as the Spartans attempted to retain him from other suitors. If they can make that sort of investment, they can certainly fire coaches, too.
"I think they're an integral part of the success of the of the program," Heitner said of influential boosters. "They absolutely should have a voice. They've always been extremely influential under the surface. They are the lifeblood of the program, outside the revenue."
For all the doom and gloom predicted by the NCAA, NIL hasn't been disaster. Rather, 6 ½ months in the experience has largely been refreshing. Locker rooms haven't fractured. Attendance and viewership weren't impacted by the "impurity" of paid athletes. No one foresaw the NIL initiative taken by several athletes who contributed part of their newfound incomes to charities.
"I don't think it's caused any harm to the game," Winter said. "Whether it's through NIL deals or under-the-table payments that everybody knows were happening before NIL, there's going to be money flowing to highly-recruited athletes in some shape or form."
Opendorse's Lawrence believes these nascent days of NIL will make the market "smarter". NIL contracts will be offered for three months instead of three years. With the transfer portal looming in the background, that's all the staying power that can be counted on for an athlete at one school.
"That's the biggest surprise in the first [few] months," Lawrence said. "Donors, collectives and how much support is coming to the student-athlete directly from the most influential individuals in your market. It's just starting to ramp up."
The NCAA is holding out hope that Congress intervenes with a federal law that would provide some uniformity. Even with that assistance — if it ever comes — college administrators warn Congress won't stop there. It's not too far of a leap to foresee the federal government running college athletics.
Until then, the likes of Rojas are more than willing to help.
"We have 500,000 alumni nationwide, 300,000 alone in Florida," he said. "We have millions of more other fans. It's natural we would start a fan club — an exclusive club to speak to the players, get to know the players."
There is no question the collectives have become a competition. There are 28 states that currently have NIL laws ostensibly set up to create opportunities as the NCAA drug its feet.
The concept has evolved so quickly that several states are considering repealing their NIL laws. Alabama is already in the process of doing so. Why? Those laws have become more restrictive than the few rules the NCAA has in place.
NIL benefits can't go to high school recruits, but you'd better believe those prospects are reading what they can earn at ol' State U. Ruiz has used Miami athletes to film commercials for his businesses.
There is a life experience component that was never there — interaction with possible future employers, financial literacy and, yeah, fame.
"I never try to imitate or compare myself to anybody," Ruiz said. "We have more tools, a production facility, 20 years of production experience. I don't think anyone is able to keep up with us. It's work for pay."
To some, all of it is about 12 highway exits past the Wild, Wild West. A random message board poster recently suggested Texas A&M paid $22 million to $30 million in NIL benefits for its currently No. 1-ranked recruiting class. The first reaction from many coaches — always thinking about competitive advantage — wasn't the post's veracity. It was that such an arrangement was theoretically possible in the current NIL environment.
"We're not involved in arranging deals," Bjork told CBS Sports.
The post was not supported by any evidence and did not quote a source. It appears to have since been taken down.
"Are there some Texas A&M boosters that want to do NIL deals with recruits? Probably," said Mit Winter, an attorney with Kennyhertz Perry's collegiate sports practice group in Kansas City, Missouri. "But I haven't seen any hard factual information where it says they've created an LLC for each recruit. I find that very hard to believe because that looks exactly like recruiting inducements."
The perceived possibilities at any school fuels a fantasy of high-dollar deals. The Horns with Heart collective intends to begin paying those Texas offensive linemen $50,000 in August. A player that stays five years could make $250,000. In return, athletes must do charity work in the form of appearances and promotion, according to the Associated Press.
Consider return on investment, central to any business' success. Ruiz says there have been five million social media hits related to those commercials. That interaction has produced a valuation of $1 million, he contends.
"There are some businesses doing NIL deals because it will help them with their marketing," Winter said. "John Ruiz, I don't think he cares one iota if there's any ROI on that at all. He's looking at, 'How I can get players to the school?'"
Ruiz responded, although not directly to Winter's comment: "The appearance of impropriety is worse than the impropriety itself. If they think by me donating I have any power over it, that is not the way I operate."
Elsewhere, exact ROI on NIL deals is hard to determine. Rojas admits it could be at least two more years until The Gator Collective becomes profitable. The Gator Collective takes 10-15% of the money to cover overhead, according to its website. That overhead includes one hourly employee and the retention of legal counsel.
For now, some collectives are getting nothing more than free publicity. That was the case for Fowler Automotive near Oklahoma City, Oklahoma, when Rattler kept his two complimentary cars despite losing his starting job with the Sooners.
"At the end of the day, it is a form of free advertising," said Jonathan Fowler, the company's president.
As for market value, some of it might seem outlandish now, but you're worth what someone will pay you. Alabama quarterback Bryce Young's valuation has been placed at $1.8 million. However, according to one industry insider, only 10 of 480,000 Division I athletes will make seven figures in NIL. About 100 athletes out of that group will make six figures. Approximately 1,000 will top out making less than $10,000. Those figures come from Jim Cavale, founder and CEO of INFLCR, a content platform form for elite athletes.  
In that sense, a lot of scrutiny is being directed at a relatively minor activity. The average NIL income per INFLCR athlete in July was $1,416. The median deal was worth $25. Since NIL started on July 1, the average compensation is $1,291 with an average deal is worth $51.
So, what's the big issue? Not much, if history is an indicator. A few years ago, SEC coaches were losing their minds over cost of attendance. There was literally a discussion over the fact Auburn athletes might be making $100 more per month than their Alabama counterparts.
Does anyone even mention cost of attendance anymore? It is overseen by the federal government and has become accepted part of the financial aid package.
"The NIL market went from zero to $10 million in transactions at INFLCR in less than six months," Cavale said. "But only 1% to 2% of that 480,000 are receiving substantive money.
"We're in the first 400 meters of a marathon. It's fear of missing out. People saying, 'I'm a failure.' No, you're not. That's not true. It's just the beginning."
require.config({"baseUrl":"https://sportsfly.cbsistatic.com/fly-0144/bundles/sportsmediajs/js-build","config":{"version":{"fly/components/accordion":"1.0","fly/components/alert":"1.0","fly/components/base":"1.0","fly/components/carousel":"1.0","fly/components/dropdown":"1.0","fly/components/fixate":"1.0","fly/components/form-validate":"1.0","fly/components/image-gallery":"1.0","fly/components/iframe-messenger":"1.0","fly/components/load-more":"1.0","fly/components/load-more-article":"1.0","fly/components/load-more-scroll":"1.0","fly/components/loading":"1.0","fly/components/modal":"1.0","fly/components/modal-iframe":"1.0","fly/components/network-bar":"1.0","fly/components/poll":"1.0","fly/components/search-player":"1.0","fly/components/social-button":"1.0","fly/components/social-counts":"1.0","fly/components/social-links":"1.0","fly/components/tabs":"1.0","fly/components/video":"1.0","fly/libs/easy-xdm":"2.4.17.1","fly/libs/jquery.cookie":"1.2","fly/libs/jquery.throttle-debounce":"1.1","fly/libs/jquery.widget":"1.9.2","fly/libs/omniture.s-code":"1.0","fly/utils/jquery-mobile-init":"1.0","fly/libs/jquery.mobile":"1.3.2","fly/libs/backbone":"1.0.0","fly/libs/underscore":"1.5.1","fly/libs/jquery.easing":"1.3","fly/managers/ad":"2.0","fly/managers/components":"1.0","fly/managers/cookie":"1.0","fly/managers/debug":"1.0","fly/managers/geo":"1.0","fly/managers/gpt":"4.3","fly/managers/history":"2.0","fly/managers/madison":"1.0","fly/managers/social-authentication":"1.0","fly/utils/data-prefix":"1.0","fly/utils/data-selector":"1.0","fly/utils/function-natives":"1.0","fly/utils/guid":"1.0","fly/utils/log":"1.0","fly/utils/object-helper":"1.0","fly/utils/string-helper":"1.0","fly/utils/string-vars":"1.0","fly/utils/url-helper":"1.0","libs/jshashtable":"2.1","libs/select2":"3.5.1","libs/jsonp":"2.4.0","libs/jquery/mobile":"1.4.5","libs/modernizr.custom":"2.6.2","libs/velocity":"1.2.2","libs/dataTables":"1.10.6","libs/dataTables.fixedColumns":"3.0.4","libs/dataTables.fixedHeader":"2.1.2","libs/dateformat":"1.0.3","libs/waypoints/infinite":"3.1.1","libs/waypoints/inview":"3.1.1","libs/waypoints/jquery.waypoints":"3.1.1","libs/waypoints/sticky":"3.1.1","libs/jquery/dotdotdot":"1.6.1","libs/jquery/flexslider":"2.1","libs/jquery/lazyload":"1.9.3","libs/jquery/maskedinput":"1.3.1","libs/jquery/marquee":"1.3.1","libs/jquery/numberformatter":"1.2.3","libs/jquery/placeholder":"0.2.4","libs/jquery/scrollbar":"0.1.6","libs/jquery/tablesorter":"2.0.5","libs/jquery/touchswipe":"1.6.18","libs/jquery/ui/jquery.ui.core":"1.11.4","libs/jquery/ui/jquery.ui.draggable":"1.11.4","libs/jquery/ui/jquery.ui.mouse":"1.11.4","libs/jquery/ui/jquery.ui.position":"1.11.4","libs/jquery/ui/jquery.ui.slider":"1.11.4","libs/jquery/ui/jquery.ui.sortable":"1.11.4","libs/jquery/ui/jquery.ui.touch-punch":"0.2.3","libs/jquery/ui/jquery.ui.autocomplete":"1.11.4","libs/jquery/ui/jquery.ui.accordion":"1.11.4","libs/jquery/ui/jquery.ui.tabs":"1.11.4","libs/jquery/ui/jquery.ui.menu":"1.11.4","libs/jquery/ui/jquery.ui.dialog":"1.11.4","libs/jquery/ui/jquery.ui.resizable":"1.11.4","libs/jquery/ui/jquery.ui.button":"1.11.4","libs/jquery/ui/jquery.ui.tooltip":"1.11.4","libs/jquery/ui/jquery.ui.effects":"1.11.4","libs/jquery/ui/jquery.ui.datepicker":"1.11.4"}},"shim":{"liveconnection/managers/connection":{"deps":["liveconnection/libs/sockjs-0.3.4"]},"liveconnection/libs/sockjs-0.3.4":{"exports":"SockJS"},"libs/setValueFromArray":{"exports":"set"},"libs/getValueFromArray":{"exports":"get"},"fly/libs/jquery.mobile-1.3.2":["version!fly/utils/jquery-mobile-init"],"libs/backbone.marionette":{"deps":["jquery","version!fly/libs/underscore","version!fly/libs/backbone"],"exports":"Marionette"},"fly/libs/underscore-1.5.1":{"exports":"_"},"fly/libs/backbone-1.0.0":{"deps":["version!fly/libs/underscore","jquery"],"exports":"Backbone"},"libs/jquery/ui/jquery.ui.tabs-1.11.4":["jquery","version!libs/jquery/ui/jquery.ui.core","version!fly/libs/jquery.widget"],"libs/jquery/flexslider-2.1":["jquery"],"libs/dataTables.fixedColumns-3.0.4":["jquery","version!libs/dataTables"],"libs/dataTables.fixedHeader-2.1.2":["jquery","version!libs/dataTables"],"https://sports.cbsimg.net/js/CBSi/app/VideoPlayer/AdobePass-min.js":["https://sports.cbsimg.net/js/CBSi/util/Utils-min.js"]},"map":{"*":{"adobe-pass":"https://sports.cbsimg.net/js/CBSi/app/VideoPlayer/AdobePass-min.js","facebook":"https://connect.facebook.net/en_US/sdk.js","facebook-debug":"https://connect.facebook.net/en_US/all/debug.js","google":"https://apis.google.com/js/plusone.js","google-platform":"https://apis.google.com/js/client:platform.js","google-csa":"https://www.google.com/adsense/search/async-ads.js","google-javascript-api":"https://www.google.com/jsapi","google-client-api":"https://apis.google.com/js/api:client.js","gpt":"https://securepubads.g.doubleclick.net/tag/js/gpt.js","newsroom":"https://c2.taboola.com/nr/cbsinteractive-cbssports/newsroom.js","recaptcha":"https://www.google.com/recaptcha/api.js?onload=loadRecaptcha&render=explicit","recaptcha_ajax":"https://www.google.com/recaptcha/api/js/recaptcha_ajax.js","supreme-golf":"https://sgapps-staging.supremegolf.com/search/assets/js/bundle.js","taboola":"https://cdn.taboola.com/libtrc/cbsinteractive-cbssports/loader.js","twitter":"https://platform.twitter.com/widgets.js","video-avia":"https://vidtech.cbsinteractive.com/avia-js/1.9.0/player/avia.min.js","video-avia-cvui":"https://vidtech.cbsinteractive.com/avia-js/1.9.0/legacy/cvui/cvui.min.js","video-ima3":"https://imasdk.googleapis.com/js/sdkloader/ima3.js","video-ima3-dai":"https://imasdk.googleapis.com/js/sdkloader/ima3_dai.js","video-utils":"https://sports.cbsimg.net/js/CBSi/util/Utils-min.js","video-vast-tracking":"https://vidtech.cbsinteractive.com/sb55/vast-js/vtg-vast-client.js"}},"waitSeconds":300});