College Football
USA Sports
Mario Cristobal looks to revive Miami program behind experienced coaching staff, QB with superstar potential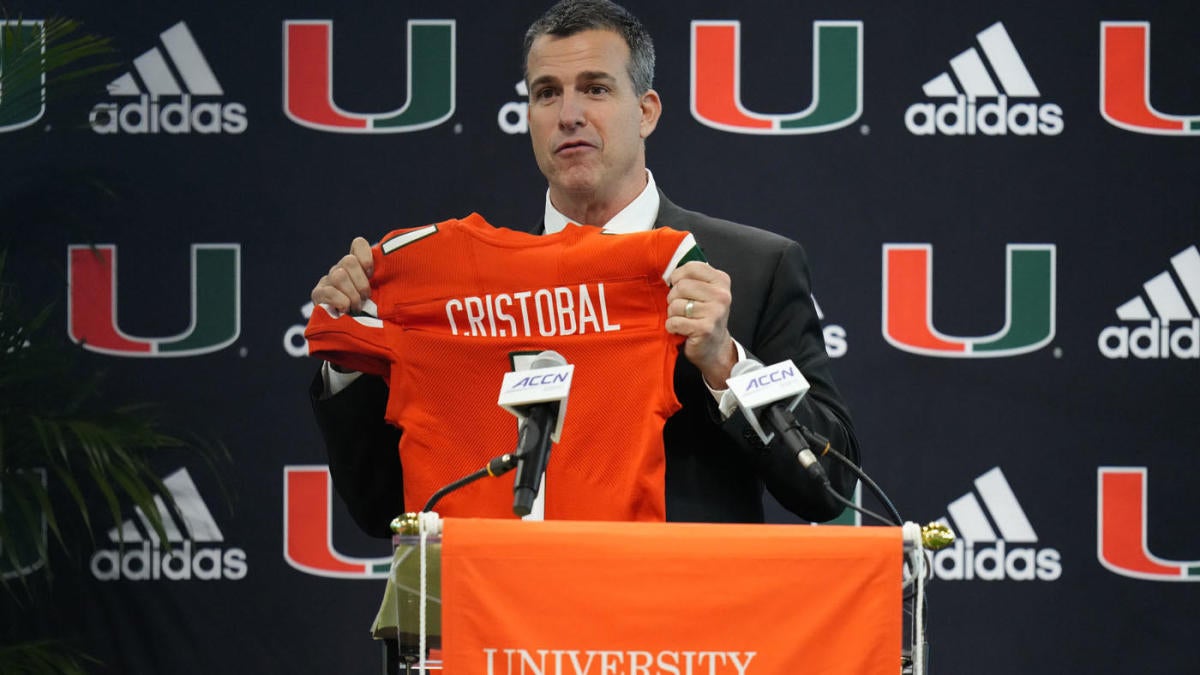 It's been a familiar story for Miami since joining the ACC in 2004. After a disappointing season, the school decides to move on from its coach and bring in somebody who understands what it means to lead The U — somebody with Miami ties who will build a wall around south Florida and make sure the top talent stays home and restores the program to the level of the elite in college football.
Former Miami linebacker and national title winner Randy Shannon replaced Larry Coker. Former Miami quarterback Mark Richt replaced Al Golden before being replaced himself by Manny Diaz, who didn't attend Miami but was the son of the city's mayor. None of the three could deliver what was asked of them, and now the baton has been passed again.
Mario Cristobal begins his first spring at Miami as head coach this week after spending the last four seasons as coach at Oregon. The former Hurricanes offensive lineman has returned to Coral Gables for his third stint as a coach, and he's inheriting a program in much different shape than it was when he wore the uniform. In 18 seasons as a member of the ACC, Miami has managed only a single division title and is yet to win the conference. After finishing 24 of 26 seasons ranked in the AP Top 25 between 1980 and 2005, including 14 finishes in the top 10, Miami has finished ranked only four times in the last 16 years. None in the top 10.
Cristobal is the latest coach to be tasked with revitalizing the program. While a lot of important work has already begun on the recruiting trail and in assembling his staff, it's the work on the field that will ultimately decide how successful this latest attempt is. That work begins this week.
Offseason changes
One of the most significant differences between the Cristobal hire and Miami's previous attempts to restore the glory is Cristobal has received the kind of financial backing needed for a program to compete at the top of the sport. Miami isn't just getting an experienced head coach, but also an experienced coaching staff.
Defensive coordinator Kevin Steele has been a head coach at Baylor, has NFL experience and spent most of the last two decades in the SEC with a front-row view of what it takes to put together an elite defense. Steele had just accepted the defensive coordinator job at Maryland and was there for about a week before Miami called and lured him south. He and Cristobal spent two seasons together on Nick Saban's staff at Alabama, and he brings a 4-3 scheme on defense. While that's a change from the 4-2-5 Miami ran under Diaz, it's not a system with which Miami fans are unfamiliar.
On offense, Cristobal was able to poach coordinator Josh Gattis from Michigan. The new Miami OC is the reigning Broyles Award winner for the best assistant coach in the country and just helped lead Michigan to a Big Ten title and College Football Playoff berth. The 38-year old Gattis had been at Michigan for three seasons but spent a year at Alabama — not with Cristobal — and five seasons between Vanderbilt and Penn State, where he served as a recruiting coordinator. 
That last part is a theme for all of Cristobal's new hires. Not only is he bringing experienced coaches and play-callers to round out his staff, but coaches who understand the importance of recruiting — and it's recruiting that will serve as the soul of how Miami develops under Cristobal.
That last bit will be music to the ears of many Miami fans. While Miami has always recruited well, routinely finishing in the top 20 in the 247Sports Composite, top-20 classes don't win national titles.
Names to know
Tyler Van Dyke, quarterback: At this time last year, Tyler Van Dyke was competing with Jake Garcia as Miami prepared for the possibility of not having D'Eriq King ready for the start of the season. While King would begin the year atop the depth chart, Van Dyke took over the job in the fourth game of the season and never gave it back. After being thrust into the full-time role, his performance is the biggest reason Miami fans are optimistic about 2022. While he's still competing with Jake Garcia this spring, it's hard to imagine Van Dyke being supplanted.

Van Dyke's passing efficiency of 160.1 last season trailed only Heisman finalist Kenny Pickett among qualified ACC QBs. He led the conference in yards per attempt and yards per completion while finishing near the top in nearly every major passing category. This spring will serve as the first chance to see how Van Dyke will be used in Josh Gattis' offense.

James Williams, safety: Williams was the No. 15 overall player in the 2021 recruiting class and showed the world why last season. He finished the year with 31 tackles, two interceptions and two passes defended while playing 372 snaps across 10 games. It was enough to earn him an All-ACC honorable mention. Everything about him screams "future star" for the Miami defense, but there's a possibility we could see him used differently. Williams is listed at 6-5 and 224 pounds, and new defensive coordinator Kevin Steele might even try him at linebacker this spring.

Chase Smith, linebacker: Last season was the first time Miami failed to have a player finish with at least eight sacks since 2015, and there aren't any obvious answers as to who will provide that pass rush in 2022. That means linebackers like Chase Smith could prove to be vitally important. Smith was part of the Miami youth movement late in 2021 and was productive when given the opportunity. The former four-star played only 95 snaps last season but finished with 13 tackles, a tackle for loss and two passes defended. With Miami making a slight change to its defensive scheme, the odds are good the linebacking corps will look different in 2022, and Smith will be an interesting player to keep an eye on this spring. 
Spring outlook
It's always a little more difficult to temper expectations following a new coaching hire, but experienced Miami fans know that they should keep things realistic. Again, this program has managed only one division title since joining the ACC in 2004, so going into a new year with an entirely new coaching staff expecting another could lead to disappointment.
That said, it's not that crazy of an idea. Clemson has been the conference's dominant program but enters 2022 with more questions than at any time in recent memory. More important to Miami, there is no obvious answer in the Coastal Division. Pitt has lost Kenny Pickett to the NFL, and he'll be joined by North Carolina's Sam Howell. Both Virginia and Virginia Tech are undergoing regime changes, as is Duke. Geoff Collins enters the season at Georgia Tech on the hot seat. Given Miami's strong finish to the 2021 season (it won five of its last six), returning production on defense and the potential of Tyler Van Dyke, this is a team with the potential to make noise.
That said, just because there are reasons to be optimistic doesn't mean there aren't problems. Tyler Van Dyke looked great last season, but the Canes lost their top targets in the passing game. While there's potential and youth behind them, questions remain about who will step up to become the primary weapon in the receiver corps. There's also the ground game, which struggled mightily. Leading rusher Jaylan Knighton returns, but he averaged only 3.87 yards per carry for a Miami offense that ranked 98th nationally in yards per rush (3.69), 85th in rushing EPA (-31.13) and 71st in rushing success rate (39.4%).
Defensively there's plenty of returning experience, but the Miami defense was far from elite last year. It finished 73rd in points allowed per drive, 69th in defensive EPA and 50th in pressure rate. Cristobal has retired the turnover chain, but the 2021 Miami defense had already done that for him, forcing only 11 turnovers last season. That ranked 119th nationally.
Odds are the 2022 season will be more about setting a foundation for success in 2023 and beyond.