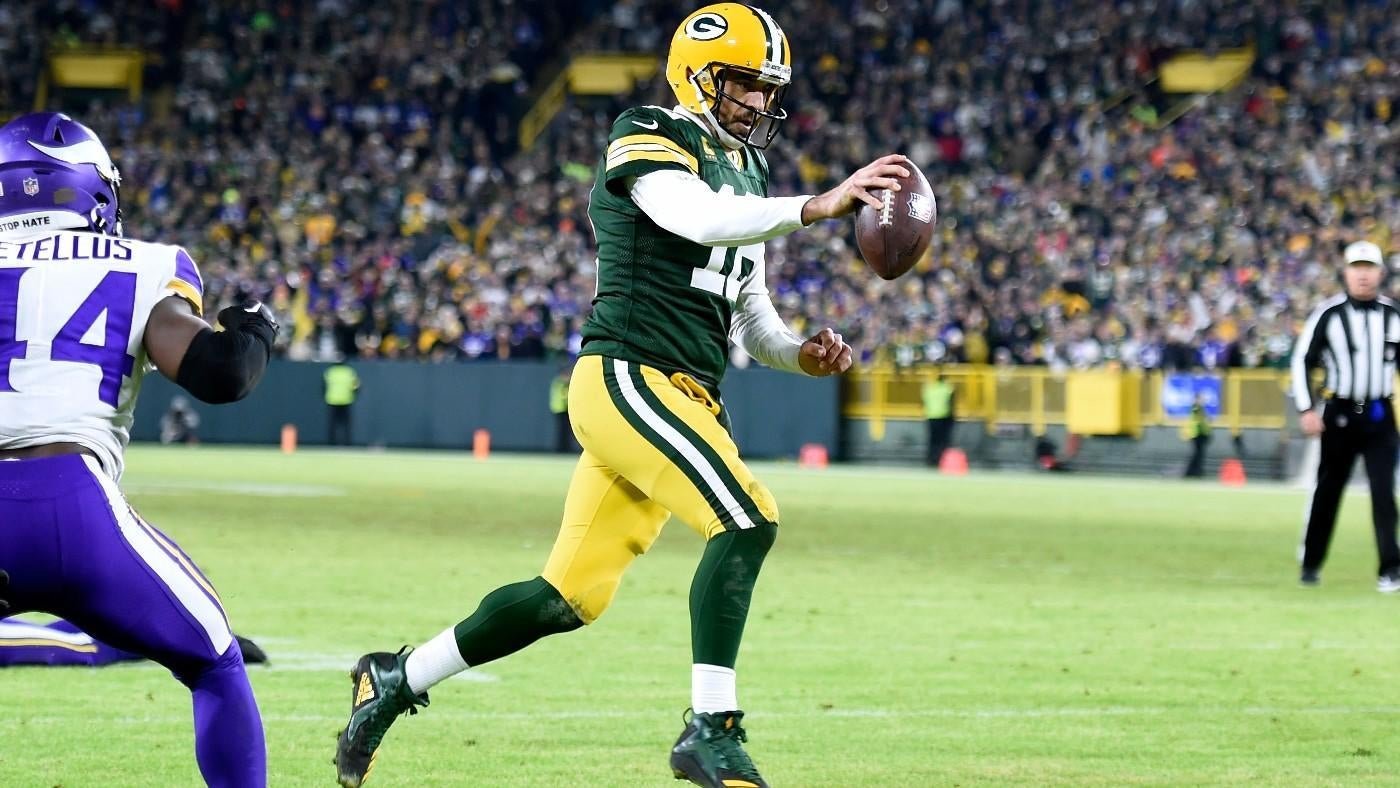 It's Week 17 of the 2022 NFL season, and we're keeping you updated on all the action and biggest storylines throughout the day. This week's slate has some fantastic matchups and storylines, and we're here to help you watch it unfold. Check back often to find out everything you need to know.
Week 17 schedule
Thursday
Cowboys 27, Titans 13 (Takeaways)
Sunday
Patriots 23, Dolphins 21 (Takeaways)
Saints 20, Eagles 10 (Takeaways)
Buccaneers 30, Panthers 24 (Takeaways)
Giants 38, Colts 10 (Recap)
Browns 24, Commanders 10 (Recap)
Chiefs 27, Broncos 24 (Recap)
Jaguars 31, Texans 3 (Recap)
Lions 41, Bears 10 (Recap)
Falcons 20, Cardinals 19 (Recap)
Seahawks 23, Jets 6 (Takeaways)
Packers 41, Vikings 17 (Takeaways)
Chargers 31, Rams 10 (Recap)
49ers 37, Raiders 34 (OT) (Recap)
Steelers 16, Ravens 13 (Takeaways)
Monday
Bills at Bengals, 8:15 p.m. ET (Preview)
Nick Bosa delivers!
Unsurprisingly, NFL Defensive Player of the Year frontrunner Nick Bosa delivered when it mattered most. Facing second-and-10 in overtime, Jarrett Stidham wanted Davante Adams deep down the left side. The only problem was he couldn't get anything on the throw, because Bosa walked his offensive lineman right into Stidham. Getting bumped by his teammate as he threw, Stidham unloaded a wobbler that floated in the air and came down into the hands of Tashaun Gipson for the interception. Gipson's return, plus a low-block penalty on Las Vegas, set up the 49ers on the three-yard line. That then set up redemption for Robbie Gould, whose 23-yard field goal lifted the 49ers to their ninth straight victory.
NO GOOD
The legend of Brock Purdy was about to grow after the seventh-round rookie led the 49ers inside the Raiders' 25-yard line. But on the final play of regulation, Robbie Gould pushed his 41-yard field goal wide right. The Raiders are alive!
Raiders won't go away
Somehow clinging to playoff hopes, the Jarrett Stidham-led Raiders are giving the 49ers all they can handle. Thanks in large part because of Davante Adams (seven catches, 153 yards, two touchdowns), Las Vegas has put up 34 points on the NFL's top defense, the latest coming on a Josh Jacobs one-yard, game-tying touchdown run with 71 seconds to play.
40 burger
On Thanksgiving weekend, the Packers were 4-8 after giving up 40 points to the Eagles on "Sunday Night Football." Four games and five weeks later, Green Bay is back at .500 and controls its playoff destiny entering the regular season finale versus the Lions. It's been a miraculous turnaround for Aaron Rodgers' group, which just dismantled the 12-3 Vikings by a score of 41-10.
Bad Kirk Cousins
Kirk Cousins have been objectively very solid this season, but every once in a while the Vikings offense goes completely stagnant. Sunday has been one of those times. For the second time this year, Cousins have thrown three interceptions in a game as Green Bay has dominated its NFC North rival from the jump.
Packers defense delivers again
When the 12-3 Vikings lose, they lose BADLY: 24-7 versus the Eagles in Week 2, 40-3 against the Cowboys in Week 11, and 34-23 in Detroit in Week 14. Week 17 will most likely be the team's fourth loss this season of at least 10 points, as the Vikings can't do anything right down 34-3 early in the fourth quarter. Just as it looked like Minnesota would score its first touchdown, Kirk Cousins fumbled the ball back to Green Bay.
CMC x5
Another game, another touchdown for Christian McCaffrey, who has been so important since coming over from Carolina. He's now got a score in five straight.
Another Mike Williams gem!
This. Guy. Catches, Everything. The Chargers wide receiver is something else.
Jarrett Stidham!

The 49ers have the top defense in the NFL. Jarrett Stidham has attempted 61 career passes and thrown two touchdowns.
Based on these two facts, someone explain Stidham's first-half stat line: 11-for-14, 145 yards, two touchdowns, no interceptions. He's been fantastic against the toughest competition, and of course Davante Adams has been a big help.
And if that wasn't enough, Stidham opened the third quarter with a six-play, 84-yard drive during which he rolled out, waited until the last second for the play to materialize, and then hit a wide-open Davante Adams for what ended up being a 60-yard score.
Catch of the day!
Parris Campbell had the early catch of the day … until Mike Williams put his contested catch to shame. There are only a few players in the league that can make this catch. A thing of beauty.
Mr. Touchdown
Austin Ekeler entered Sunday leading all non-quarterbacks with 16 total touchdowns, and he's extended that lead with two first-half scores versus the Rams on Sunday. The second score was a beauty, as Ekeler found a crease up the middle, made a defender miss in the secondary and then ran away from everyone else for the 72-yard house call.
Rodgers who? 
Aaron Rodgers was 4-for-9 for 28 yards … and yet the Packers had a two-touchdown lead late in the first half. That's because the defense and special teams have come to play in a major way. In addition to Keisean Nixon's 105-yard kickoff return, Green Bay has gotten a 75-yard interception return from Darnell Savage Jr. and then another interception from Adrian Amos off a tipped pass.
Fittingly, as I typed this blurb, Rodgers was leading a five-play, 60-yard drive that he capped with a 21-yard touchdown pass to Robert Tonyan.
Mr. Relevant 
Brock Purdy has been so impressive for the surging 49ers, and he's showing no signs of slowing down. He's now thrown multiple touchdowns in each of his first four career starts after finding Brandon Aiyuk and George Kittle in the opening half versus the Raiders.
Kickoff return TD!
Keisean Nixon has been incredible since becoming the Packers' kickoff return man in late October. The 2019 undrafted free agent entered Sunday leading the NFL in kick return yards (825) and kick return average (27.50), and now he can add kickoff return touchdown to his resume. With the Packers needing to win to stay alive in the playoff hunt, Nixon, after battling a groin injury all week, fielded the ball five yards into his own end zone and was off to the races, weaving his way all the way for the 105-yard score!
Let Geno Cook
Pro Bowler Geno Smith is looking like the QB who earned that honor with his brilliance over the first half of the season. He has not been as good lately, but he's regained his former against a stout Jets defense. In a quarter and a half, he's completed seven of his nine passes for 111 yards and touchdowns to Tyler Mabry and Colby Parkinson as Seattle looks to keep its playoff hopes alive.
It was about as good of a start as Jarrett Stidham could have asked for in his first start replacing Derek Carr. Despite facing the NFL's top defense, Stidham carved up the 49ers on the opening drive, marching 70 yards on six plays and connecting with Darren Waller for the 24-yard score.
Bucs punter saves the day!
On fourth-and-10 around midfield, a bad snap left Buccaneers punter Jake Camarda in an awful situation. But with several Panthers chasing him, Camarda not only got off the punt on the run, but the ball landed inside the 5-yard line. The punt didn't end up counting because there was an ineligible man downfield, but if Camarda never got the punt off, Carolina would have had the ball in great field position with enough time to score the game-winning touchdown. Instead, there was a re-punt, which backed up the Panthers too far to make anything happen before the clock struck zero.
Game-winning FG!
Apologies for the lack of Falcons-Cardinals updates, but it was the only game in the early window without playoff implications. Still, it was a back-and-forth affair that Younghoe Koo won with a chip-shot field goal as time expired to lift Atlanta to the victory.
TOM BRADY
You want something done right? Do it yourself. Tom Brady did just that on the goal line to all but seal the Buccaneers' victory and another NFC South title in what's been a disappointing season.
MIKE EVANS
Mike Evans is incredible. Not only does he have an NFL record nine straight seasons with 1,000 yards receiving to start his career, but he's absolutely carried the Buccaneers with the NFC South title on the line. Just check out this stat line: 10 receptions, 207 yards and three touchdowns — from 30, 57 and 63 yards — to carry the Buccaneers to the win and back-to-back division titles.
Another pick-six!
All the Eagles needed is one win in their final three games to wrap up the No. 1 seed in the NFC and a first-round bye. It's looking like Philadelphia is going to lose its second game in a row after backup QB Gardner Minshew's pick-six to Marshon Lattimore put New Orleans up 10 in the final minutes.
Pick-six!
The Patriots defense saving the day once again. Trailing, 14-10, late in the third quarter, Kyle Dugger jumped in front of the Dolphins pass-catcher to snag the interception and take it back 39 yards for the go-ahead score. And to add insult to injury, Duggar's violent stiff-arm to Teddy Bridgewater near the goal line knocked the Dolphins' starting quarterback out of the game.
Broncos? Broncos!
The Broncos, who were embarrassed in front of a national audience on Christmas Day, somehow have the lead over the Chiefs entering the fourth quarter. Russell Wilson's touchdown pass to Albert Okwuegbunam put Denver ahead.
Eagles have life
The Jalen Hurts-less Eagles have done basically nothing offensively against the Saints … until Gardner Minshew just decided to throw it up to A.J. Brown in single coverage. Paulson Adebo got tangled up with Brown, which knocked him out of the play, and then Brown stopped Daniel Sorensen in his tracks as he raced past him. The 78-yard score brings Philadelphia within three.
Lions all over Bears
The Lions are taking out their frustration from last week's disappointing loss to the Panthers on their NFC North rival. Jared Goff has nearly as many touchdowns (three) as incompletions (four), while D'Andre Swift has found the end zone twice (one rushing, one receiving) as Detroit is beating up on the Bears.
Danny Dimes BALLIN'
What a difference a year makes. Last season, Daniel Jones did not perform well enough for the new Giants brass to pick up his fifth-year option. He's since had the best campaign of his career, and he's been superb as New York attempts to beat the Colts and make the playoffs for the first time since 2016. In addition for going 19 of 24 for 177 passing yards and a touchdown, he's added 91 yards on the ground and another two scores as the rout is on at Metlife Stadium.
Poor Kendall Fuller. The Commanders cornerback thought Amari Cooper was going to cut inside after catching the quick out. Instead, Cooper stopped on a dime, turned outside and left the diving Fuller in the dust as he galloped down the left sideline for the 46-yard touchdown.
Michigan could not get the job done in the College Football Playoff semifinal on Saturday night, but former Wolverine Aidan Hutchinson has been delivering all year for the Lions on Sundays. Not only do his 7.5 sacks lead all rookies, but he's now tied for the most interceptions among linebackers/defensive ends in the entire NFL after picking off Justin Fields on the last play of the first half. It's been a dominant rookie campaign for the No. 2 overall pick.
21-play drive!
Two weeks after the Steelers went on a 21-play TD drive versus the Panthers, the Commanders matched that with a 21-play, 96-yard drive that gobbled up MORE THAN 11 MINUTES of game time. On fourth-and-goal, Carson Wentz made up for his two first-half interceptions by reaching the ball over the goal line for the go-ahead score.
Landon Collins, a former three-time Pro Bowler with the Giants, re-signed with New York in early October and has quickly made his presence felt. No play was more important than this one, as Collins jumped the quick out route, intercepted the pass from Nick Foles and took it 52 yards to the house.
Jags all over Texans
This game means next to nothing for the Jaguars, but they're still playing as if their playoff lives are on the line. After JaMycal Hasty found the end zone on Jacksonville's opening drive, fellow running back Travis Etienne doubled that advantage with a 62-yard burst and then Tyson Campbell tacked on six more with his fumble return for a touchdown. It's been all Jaguars in the opening 30 minutes.
Panthers and Bucs trade TDs
The Panthers jumped out to a two-touchdown lead with Sam Darnold's touchdown to D.J. Moore, but with their backs against the wall, Tom Brady hooked up with his favorite receiver, Mike Evans, for a 63-yard score that cut the deficit in half.
Chiefs sloppy with the ball
Not often do you see the Chiefs beat themselves, but their sloppiness has allowed the Broncos, who gave up 51 points on Christmas Day against the Rams, to go ahead in the second quarter. First Patrick Mahomes threw a red-zone interception to Justin Simmons, and after the defense forced a punt, Kadarius Toney coughed the ball up to give Denver the ball right back. On the next play, Russell Wilson flipped back the clock five years as his 16-yard scamper put his team ahead.
TDs & backflips
Tyreek Hill is the king of post-touchdown acrobatics, so it's not surprising he put on a show after taking the bubble screen two yards into the end zone against the Patriots.
But how about Richie James? The Giants WR provided some theatrics of his own after scoring the go-ahead touchdown against the Colts.
Catch of the day nominee
Did not think any Colts would be in contention for this after how Nick Foles looked against the Chargers on "Monday Night Football," but Parris Campbell showed his contested-catch ability on this fantastic grab with three Giants in close proximity. His 49-yard snag set up an Indianapolis field goal.
Saints (very slowly) march down field
The Saints' very slim playoff chances start with beating the NFC-leading Eagles, and they're off to a great start in Philadelphia. New Orleans received the opening kickoff and immediately marched 75 yards in 15 plays, draining nearly nine minutes in the process. Even better, the possession ended with a touchdown from Taysom Hill from one yard out.
Justin Fields can't be stopped
Fields, already arguably the best running quarterback in the NFL, is once again dominating on the ground. He's already ripped off runs of 31 and 60 yards and has gone over 100 yards rushing … in the first quarter! Fields' latest brilliance moves him into second place in single-season rushing yards for a quarterback, trailing only Lamar Jackson (1,206) from 2019.
Rough start for Wentz
Starting his first game since Week 6, Carson Wentz did nothing to suggest he'll be an upgrade over the errant yet successful Taylor Heinicke. First pass from Wentz, incomplete. Second pass, intercepted by Denzel Ward. Just a late throw from Wentz, which allowed Ward to cut in front of Terry McLaurin to secure the turnover.
Mahomes to Mahomes
When balls get deflected back to quarterbacks, they usually try and knock them down so they don't get intercepted. Mahomes is not most quarterbacks, so he caught his own deflected pass and ran for six yards on the Chiefs' opening drive, which ended in a Isiah Pacheco touchdown.
Fields on the … pitch?
Yes, you read that right. On third-and-1 from around midfield, tight end Cole Kmet motioned under center, took the snap and then pitched it to Justin Fields, who looked like a Pro Bowl running back as he navigated his way 31 yards deep into Lions territory. Three plays later, Fields returned the favor by hitting Kmet for a 13-yard touchdown to open the scoring.
Panthers strike first! 
The same Panthers who fired their head coach and traded their star RB are still in the hunt for a playoff spot, and they're off to a great start against the Buccaneers. Sam Darnold, who has embraced the game-manager role for run-focused Carolina, did some serious damage with his arm on the opening drive, hitting D.J. Moore for 26 yards, Shi Smith for 11 more, Laviska Shenault Jr. for six and finally Tommy Tremble for the 17-yard score.
Unlikely playoff-deciding matchups
Let's start by saying Bills-Bengals is the game of the weekend — and potentially one of the best of the entire season. And that's not surprising based on preseason expectations. Buffalo has been the Super Bowl favorite nearly every day since Super Bowl LVI, while Cincinnati brought a ton of momentum into 2022 after its surprising run to nearly hosting the Lombardi Trophy. Cherish this upcoming "Monday Night Football" matchup, because the top games entering the season don't always pan out. 
Case and point: the rest of Week 17. The three most important games on the slate are Jets-Seahawks, Buccaneers-Panthers and Dolphins-Patriots. By this point, most would have probably thought New York and Seattle were eliminated and Tampa Bay was competing for the No. 1 seed in the NFC — not its own putrid division. Elsewhere, the Giants and Commanders are looking to lock up playoff spots against a pair of preseason playoff hopefuls, the Colts and the Browns, respectively, while the Packers are hoping to keep their postseason hopes alive against the Vikings — a notion that would have sounded backwards in July.
The NFL is great because it's unpredictable in so many ways, and that unpredictability has yielded some monumental Week 17 showdowns. They're just not the ones you thought you were going to see.
require.config({"baseUrl":"https://sportsfly.cbsistatic.com/fly-0379/bundles/sportsmediajs/js-build","config":{"version":{"fly/components/accordion":"1.0","fly/components/alert":"1.0","fly/components/base":"1.0","fly/components/carousel":"1.0","fly/components/dropdown":"1.0","fly/components/fixate":"1.0","fly/components/form-validate":"1.0","fly/components/image-gallery":"1.0","fly/components/iframe-messenger":"1.0","fly/components/load-more":"1.0","fly/components/load-more-article":"1.0","fly/components/load-more-scroll":"1.0","fly/components/loading":"1.0","fly/components/modal":"1.0","fly/components/modal-iframe":"1.0","fly/components/network-bar":"1.0","fly/components/poll":"1.0","fly/components/search-player":"1.0","fly/components/social-button":"1.0","fly/components/social-counts":"1.0","fly/components/social-links":"1.0","fly/components/tabs":"1.0","fly/components/video":"1.0","fly/libs/easy-xdm":"2.4.17.1","fly/libs/jquery.cookie":"1.2","fly/libs/jquery.throttle-debounce":"1.1","fly/libs/jquery.widget":"1.9.2","fly/libs/omniture.s-code":"1.0","fly/utils/jquery-mobile-init":"1.0","fly/libs/jquery.mobile":"1.3.2","fly/libs/backbone":"1.0.0","fly/libs/underscore":"1.5.1","fly/libs/jquery.easing":"1.3","fly/managers/ad":"2.0","fly/managers/components":"1.0","fly/managers/cookie":"1.0","fly/managers/debug":"1.0","fly/managers/geo":"1.0","fly/managers/gpt":"4.3","fly/managers/history":"2.0","fly/managers/madison":"1.0","fly/managers/social-authentication":"1.0","fly/utils/data-prefix":"1.0","fly/utils/data-selector":"1.0","fly/utils/function-natives":"1.0","fly/utils/guid":"1.0","fly/utils/log":"1.0","fly/utils/object-helper":"1.0","fly/utils/string-helper":"1.0","fly/utils/string-vars":"1.0","fly/utils/url-helper":"1.0","libs/jshashtable":"2.1","libs/select2":"3.5.1","libs/jsonp":"2.4.0","libs/jquery/mobile":"1.4.5","libs/modernizr.custom":"2.6.2","libs/velocity":"1.2.2","libs/dataTables":"1.10.6","libs/dataTables.fixedColumns":"3.0.4","libs/dataTables.fixedHeader":"2.1.2","libs/dateformat":"1.0.3","libs/waypoints/infinite":"3.1.1","libs/waypoints/inview":"3.1.1","libs/waypoints/jquery.waypoints":"3.1.1","libs/waypoints/sticky":"3.1.1","libs/jquery/dotdotdot":"1.6.1","libs/jquery/flexslider":"2.1","libs/jquery/lazyload":"1.9.3","libs/jquery/maskedinput":"1.3.1","libs/jquery/marquee":"1.3.1","libs/jquery/numberformatter":"1.2.3","libs/jquery/placeholder":"0.2.4","libs/jquery/scrollbar":"0.1.6","libs/jquery/tablesorter":"2.0.5","libs/jquery/touchswipe":"1.6.18","libs/jquery/ui/jquery.ui.core":"1.11.4","libs/jquery/ui/jquery.ui.draggable":"1.11.4","libs/jquery/ui/jquery.ui.mouse":"1.11.4","libs/jquery/ui/jquery.ui.position":"1.11.4","libs/jquery/ui/jquery.ui.slider":"1.11.4","libs/jquery/ui/jquery.ui.sortable":"1.11.4","libs/jquery/ui/jquery.ui.touch-punch":"0.2.3","libs/jquery/ui/jquery.ui.autocomplete":"1.11.4","libs/jquery/ui/jquery.ui.accordion":"1.11.4","libs/jquery/ui/jquery.ui.tabs":"1.11.4","libs/jquery/ui/jquery.ui.menu":"1.11.4","libs/jquery/ui/jquery.ui.dialog":"1.11.4","libs/jquery/ui/jquery.ui.resizable":"1.11.4","libs/jquery/ui/jquery.ui.button":"1.11.4","libs/jquery/ui/jquery.ui.tooltip":"1.11.4","libs/jquery/ui/jquery.ui.effects":"1.11.4","libs/jquery/ui/jquery.ui.datepicker":"1.11.4"}},"shim":{"liveconnection/managers/connection":{"deps":["liveconnection/libs/sockjs-0.3.4"]},"liveconnection/libs/sockjs-0.3.4":{"exports":"SockJS"},"libs/setValueFromArray":{"exports":"set"},"libs/getValueFromArray":{"exports":"get"},"fly/libs/jquery.mobile-1.3.2":["version!fly/utils/jquery-mobile-init"],"libs/backbone.marionette":{"deps":["jquery","version!fly/libs/underscore","version!fly/libs/backbone"],"exports":"Marionette"},"fly/libs/underscore-1.5.1":{"exports":"_"},"fly/libs/backbone-1.0.0":{"deps":["version!fly/libs/underscore","jquery"],"exports":"Backbone"},"libs/jquery/ui/jquery.ui.tabs-1.11.4":["jquery","version!libs/jquery/ui/jquery.ui.core","version!fly/libs/jquery.widget"],"libs/jquery/flexslider-2.1":["jquery"],"libs/dataTables.fixedColumns-3.0.4":["jquery","version!libs/dataTables"],"libs/dataTables.fixedHeader-2.1.2":["jquery","version!libs/dataTables"],"https://sports.cbsimg.net/js/CBSi/app/VideoPlayer/AdobePass-min.js":["https://sports.cbsimg.net/js/CBSi/util/Utils-min.js"]},"map":{"*":{"adobe-pass":"https://sports.cbsimg.net/js/CBSi/app/VideoPlayer/AdobePass-min.js","facebook":"https://connect.facebook.net/en_US/sdk.js","facebook-debug":"https://connect.facebook.net/en_US/all/debug.js","google":"https://apis.google.com/js/plusone.js","google-platform":"https://apis.google.com/js/client:platform.js","google-csa":"https://www.google.com/adsense/search/async-ads.js","google-javascript-api":"https://www.google.com/jsapi","google-client-api":"https://apis.google.com/js/api:client.js","gpt":"https://securepubads.g.doubleclick.net/tag/js/gpt.js","hlsjs":"https://cdnjs.cloudflare.com/ajax/libs/hls.js/1.0.7/hls.js","recaptcha":"https://www.google.com/recaptcha/api.js?onload=loadRecaptcha&render=explicit","recaptcha_ajax":"https://www.google.com/recaptcha/api/js/recaptcha_ajax.js","supreme-golf":"https://sgapps-staging.supremegolf.com/search/assets/js/bundle.js","taboola":"https://cdn.taboola.com/libtrc/cbsinteractive-cbssports/loader.js","twitter":"https://platform.twitter.com/widgets.js","video-avia":"https://vidtech.cbsinteractive.com/avia-js/2.4.0/player/avia.min.js","video-avia-ui":"https://vidtech.cbsinteractive.com/avia-js/2.4.0/plugins/ui/avia.ui.min.js","video-avia-gam":"https://vidtech.cbsinteractive.com/avia-js/2.4.0/plugins/gam/avia.gam.min.js","video-avia-hls":"https://vidtech.cbsinteractive.com/avia-js/2.4.0/plugins/hls/avia.hls.min.js","video-avia-playlist":"https://vidtech.cbsinteractive.com/avia-js/2.4.0/plugins/playlist/avia.playlist.min.js","video-ima3":"https://imasdk.googleapis.com/js/sdkloader/ima3.js","video-ima3-dai":"https://imasdk.googleapis.com/js/sdkloader/ima3_dai.js","video-utils":"https://sports.cbsimg.net/js/CBSi/util/Utils-min.js","video-vast-tracking":"https://vidtech.cbsinteractive.com/sb55/vast-js/vtg-vast-client.js"}},"waitSeconds":300});