Cricket
Opinion: The BCCI should have an honest conversation with Wriddhiman Saha soon | Cricket News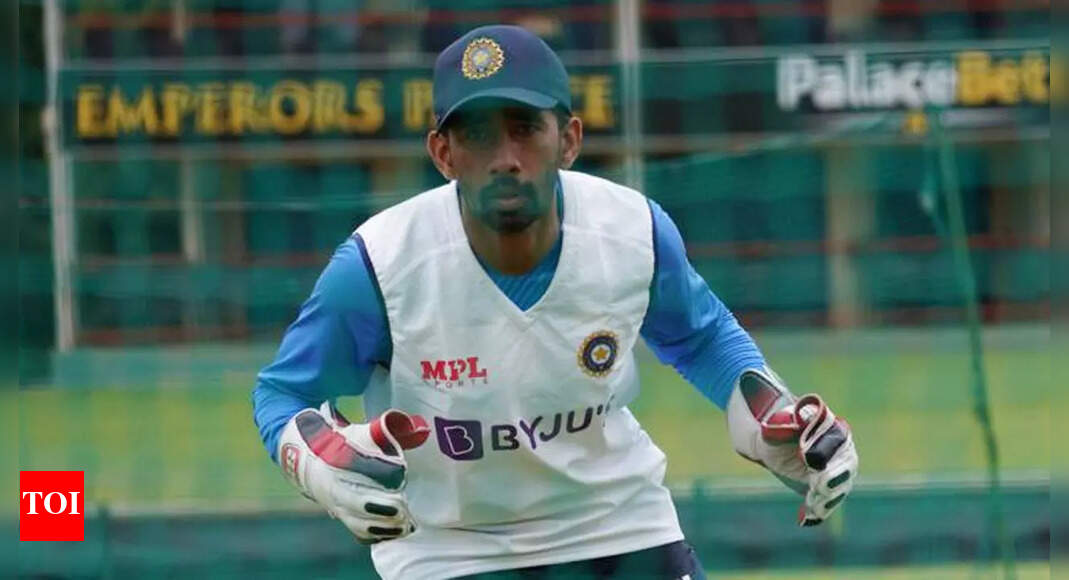 By now everyone who follows regular cricket news knows about the
Wriddhiman Saha
episode. In fact many who don't are also aware of it, thanks to the many headlines that have been dedicated to this and of course with it trending on social media.
The details are all public knowledge and that of course means that everyone has an opinion about it. While that doesn't sound like the best possible scenario, it is important to view the entire matter in a dispassionate way and that is where certain opinions might play a crucial role.
This saga in many ways is a three pronged one.
One – the details that
Saha
divulged about the conversations that Head coach
Rahul Dravid
and Chief selector Chetan Sharma had with him, about his future in Indian cricket.
Two – the message he received from
Sourav Ganguly
, the
BCCI
president, before he had the above mentioned conversations with Dravid and Sharma.
Three – the messages, some of them clearly bordering on threats, which he received from an unnamed journalist who wanted an interview with him after he was dropped from the Indian Test team.
It's not very often that one hears or reads about personal, often confidential, conversations or messages between administrators and players, unless it gives information about the plans that the management has for certain players – like Chetan Sharma talking about Ajinkya Rahane and Cheteshwar Pujara going back to domestic cricket and playing in the Ranji Trophy and the conversation that he had with them. What is even less common is a player talking openly about conversations he has had with the management, which were very clearly meant to remain private.
BCCI treasurer
Arun Dhumal
told PTI – 'Yes, there is a possibility that BCCI could ask Wriddhiman as to how he spoke on selection matters being a centrally contracted cricketer.'
Before you start challenging that stand, think about it with a calm head. The conversations which Dravid and Sharma had with Saha were not biased or vicious. They were not meant to hurt him in any way. They were honest conversations which a Head coach and a Chief Selector are well within their rights to have with a cricketer. If they think Saha doesn't fit into Indian cricket's scheme of things anymore, they will have to communicate that to him. It is only the fair thing to do, both for the team and the individual. Much like a boss in any organisation might have done with an employee. If Saha was being unfairly targeted by anyone in the management, if there was a clear case of a bias at work, or if he knew things which were hurting Indian cricket in any way, he should have been applauded for going public with that information. But this was more a case of him feeling clearly very hurt after being told he will, in all probability, not be part of the Indian Test team going ahead. He has served the Indian cricket team very well over the years, but the curtain comes down for everyone at some point or the other.
Also there is the simple matter of Saha being a centrally contracted player, which means he is bound by a contract. PTI reported how clause 6.3 of the players contract says – Player shall not make any comments about the game, officials, incidents that happened in the game, use of technology, selection matters or any other matter related to the game which in opinion of the BCCI is adverse to and / or not in the interest of the game, team or BCCI in any media…."
This is in no way an attempt to say that the Indian cricket Board is above reproach. Over the years, the BCCI has been criticised, and fairly so, for lacking transparency on many issues. But this is a case of a contracted player revealing conversations he has had with the Head coach and Chief Selector about selection. The BCCI could well invoke the above mentioned clause in this matter. If this was a corporate office and not the headquarters of Indian cricket, would we even be having this conversation?
So, is the BCCI well within its rights to question Saha about this? Yes, it is. The way they do it though is upto the powers that be in Indian cricket. It shouldn't be an exercise to punish. It should be an exercise to find out more, an honest conversation – why did Saha talk about these things so openly? Just how hurt is he at being told that he will not be part of Team India's future plans? A healthy conversation is what is needed here.
Having said that, it is also pertinent to point out that in December last year Virat Kohli had openly, in a press interaction, refuted something Board president Sourav Ganguly had said earlier about Virat quitting T20I captaincy. Virat had said, he was never asked to reconsider his decision, something Ganguly had said the Board had asked him to do. Virat also revealed how he was told that he would not be ODI captain any more, by the Chief selector, 90 minutes before team selection for the South Africa tour. Did anyone from the BCCI have a conversation with Virat about these revelations, maybe at that time or after he stepped down as Test captain? If that hasn't happened, it really should.
Meanwhile, in the entire Saha episode, Rahul Dravid is someone who has come out looking very good. Not one to sweep things under the carpet, Dravid made it a point to tackle all questions about this with a straight bat. He said things like how he was 'not hurt at all', how he has 'deep respect' for Saha and his 'contribution to Indian cricket' and how Saha 'deserved honesty and clarity'. He made it a point to establish his style of functioning which is to have straight up, honest conversations with players. He could have stayed silent and not taken any questions on this from the press, but he felt making his stand clear was important. Yes, a player has the right to feel bad about not being included in the team, but the management needs to have a clear line of communication open with all players – senior or junior – about their future. Just like in any well managed workplace.
That brings us to the matter of the message that Saha revealed he received from Sourav Ganguly, after he scored 61* vs New Zealand in the first Test in Kanpur last November.
In that message, according to Saha, Ganguly told him that as long as he is heading the BCCI, Saha would be in the Indian team.
The immediate question that was asked was – Should a sitting BCCI president be sending a player a message like that ? And that was a very pertinent question to ask. Ideally, the BCCI president should also ideally come out and make a statement on this – much like Dravid has. What was that message supposed to mean exactly? Only he can explain.
And now for the third prong of this saga. The messages that Saha received from a journalist. This one is a much simpler matter. There just cannot be a justification for anyone, let alone a journalist, to threaten or intimidate a player just because he is not getting an interview. All the support that Saha has received in this matter is very well deserved. There are some who are still urging Saha to reveal the identity of the journalist, even though Saha himself has said that he would not like to do that on humanitarian grounds. But that also becomes just a tad bit problematic. For those who are following all the developments it becomes a somewhat strange situation – Saha is comfortable revealing confidential conversations he had with Dravid, Ganguly and Chetan Sharma, but he wants to protect the identity of someone clearly in the wrong?
Doesn't sit right, does it?
But then, that is definitely something else that should be discussed whenever the BCCI has an honest conversation with Saha. Let's hope that happens as soon as possible. The worst thing that can happen here is to allow the issue to fester.