NFL
Ranking every NFL Hall of Fame quarterback: Peyton Manning, Joe Montana, Johnny Unitas vie for top spot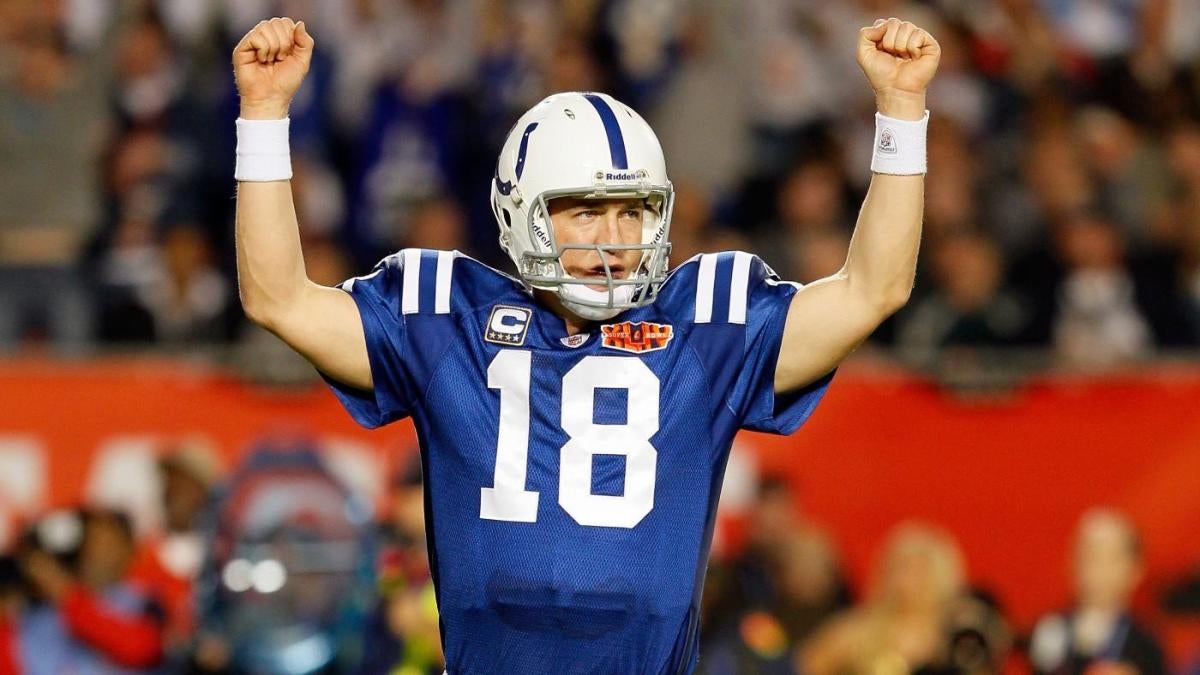 An interesting talking point began almost immediately after Super Bowl LVI: the Hall of Fame merits of Rams quarterback Matthew Stafford, who led the Rams to a 23-20 win over the Bengals. That topic led to an idea to rank each of the 28 quarterbacks who have already received enshrinement in Canton, Ohio. 
Below is a ranking of the quarterbacks who are currently in the Pro Football Hall of Fame. Here was the criteria used when coming up with the ranking: 
Career and single-season statistics 
Individual accolades 
Championships won 
Impact on the game 
Intangible skills 
A question was also used when comparing quarterbacks: Whose career would you have rather had? Troy Aikman doesn't have the stats or the individual awards that many of his Hall of Fame peers have, but he has more Super Bowl rings as a starting quarterback than all but two quarterbacks who are currently enshrined. While awards and numbers are nice, one would venture to guess that most people would choose Aikman's career over many other quarterbacks on this list. (Aikman was also a great quarterback in his own right, which we'll get to momentarily.) 
Without further ado, let's get started. 
1. Joe Montana 
Key stats: 4-0 in Super Bowls; 2-time MVP; 3-time Super Bowl MVP; 1986 Comeback Player of the Year; 5-time NFL leader in completion percentage 
Why he's No. 1: Montana was widely considered the greatest quarterback in league annals prior to Tom Brady's legendary run. Montana's career had the perfect mix of stats and individual and team accomplishments. He also had a hand in some of the most famous plays in league history. 
Key stats: 5-time MVP; 2-time Super Bowl champion; Super Bowl XLI MVP; No. 2 all-time in wins by a starting QB; No. 3 all-time in career passing yards and TD passes
Why he's No. 2: The ultimate field general, Manning's immense talent was matched only by his supreme intellect. Manning loved mixing it up against the greatest defensive minds in football, from Bill Belichick to Ray Lewis. Manning was also a serial winner, as he won at least 10 games 14 times. He led two different franchises to a combined four Super Bowls, winning two. 
3. Johnny Unitas
Key stats: 3-time MVP; 3-time NFL champion; Super Bowl V champion; first QB to reach 40,000-career passing yards 
Why he's No. 3: The greatest quarterback during the NFL's first 50 seasons. Unitas' record of 47 consecutive games with a touchdown pass stood for over 50 years until it was finally broken by Drew Brees. A quarterback who was way ahead of his time, Unitas led Baltimore in the first overtime playoff game in NFL history, a 23-17 win over the Giants in the 1958 NFL Championship Game. 
4. Brett Favre
Key stats: 3-time MVP; Super Bowl XXXI champion; retired as the NFL's all-time leader in passing yards and TD passes; owns NFL record with 297 consecutive games started
Why he's No. 4: Favre wore No. 4, so it's only fitting that's where he lands on the list. A classic gunslinger, Favre's fearlessness resulted in big plays as well as heartbreak. Favre often played his best on the brightest stages. He called two audibles in his first Super Bowl against a Bill Belichick-coached defense, and the results were touchdown passes of 54 and 81 yards. Favre's most memorable night, however, was his 399-yard, four-touchdown performance the day after his father passed away. 
5. Dan Marino 
Key stats: 1984 MVP; retired as NFL's all-time leader in career passing yards and passing TD; held league's single-season records for passing yards (5,084 yards) and TD passes (48) for 27 and 20 years, respectively
Why he's No. 5: Marino is regarded as arguably the best pure passer in league history. He led the NFL in passing yards five times and in touchdown passes on three occasions, doing so during an era where receivers and quarterbacks were not as protected by league rules. While he never won a Super Bowl, Marino guided the Dolphins to 10 postseason appearances and 147 regular season wins. 
6. John Elway 
Key stats: 2-time Super Bowl champion; Super Bowl XXXIII MVP; 1987 MVP; 148 regular season wins; 14-7 postseason record
Why he's No. 6: Along with his passing prowess, Elway was a dangerous runner with 3,407 yards and 33 touchdowns over his 16 seasons. Before winning back-to-back titles at the end of his career, Elway led the Broncos to three AFC titles over a four-year span from 1986-89. Elway's famous game-tying drive late in the 1986 AFC Championship Game helped the Broncos capture their second AFC title. His helicopter spin in Super Bowl XXXII keyed Denver's upset of Green Bay. 
7. Otto Graham 
Key stats: 3-time NFL MVP; 3-time NFL champion; 4-time AAFC champion; 9-3 playoff record; 4-time NFL leader in completion percentage
Why he's No. 7: Graham spent nearly half of his career in the "inferior" AAFL, which is why he isn't higher on the list. That said, Graham and the Browns' quick success in the NFL largely solidified their AAFL dominance. Along with being a prominent passer, Graham was one of the greatest winners in league annals, as he played for a title in each of his 10 seasons. 
8. Sammy Baugh
Key stats: 2-time NFL champion; 8-time NFL leader in completion percentage during 16-year career; 4-time NFL leader in passing yards; 2-time NFL leader in TD passes 
Why he's No. 8: Baugh's impact on the NFL goes beyond numbers. The league's first successful dropback passer, Baugh helped modernize the passing game. His 2,938 passing yards in 1947 (a single-season record that stood until 1960) was nearly 1,100 more yards than the next most prolific season in league history by any quarterback not named Otto Graham. Baugh's 70.3 completion percentage in 1945 stood as the NFL record until 1982. 
9. Terry Bradshaw
Key stats: 4-time Super Bowl champion; 2-time Super Bowl MVP; 1978 MVP; 107-51 regular season record; 14-5 playoff record 
Why he's No. 9: Bradshaw overcame a rocky start to his career to help lead the Steelers to four Super Bowl wins over a six-year span. Along with being Pittsburgh's play-caller, Bradshaw threw the game-deciding touchdown in each of the Steelers' Super Bowl wins. His signature performance was during Pittsburgh's 35-31 win over Dallas in Super Bowl XIII, when he threw for 318 yards and four touchdowns against the Cowboys' vaunted "Doomsday" defense. 
10. Roger Staubach
Key stats: 2-time Super Bowl champion; Super Bowl VI MVP; 85-29 regular season record; 21 game-winning drives 
Why he's No. 10: "Captain America" was literally unbeatable in 1971; he went 10-0 as a starter in the regular season before helping lead the Cowboys to a Super Bowl win over Don Shula's Dolphins. If he had a kryptonite, it was the Steelers, who he was 0-2 against in Super Bowls. Along with helping popularize the NFL (and specifically the quarterback position), Staubach was the first quarterback to thrive while playing primarily out of the shotgun. 
11. Steve Young 
Key stats: 2-time MVP; 3-time Super Bowl champion; Super Bowl XXIX MVP; retired with highest passer rating in league history; 5-time NFL leader in completion percentage; 4-time NFL leader in TD passes; 91-33 regular season record as the 49ers' starting QB
Why he's No. 11: The left-handed Young was an exceptionally gifted athlete who thrived in Mike Shanahan's offense in San Francisco. Along with his uncanny accuracy, Young is also one of the greatest rushing quarterbacks on this list with 4,239 yards and 43 touchdowns. Young was downright dominant in Super Bowl XXIX, as he threw a Super Bowl record six touchdowns against the Chargers. 
12. Bart Starr 
Key stats: 5-time NFL champion; back-to-back Super Bowl champion; 2-time Super Bowl MVP; 1966 MVP
Why he's No. 12: Starr played an integral role in the Packers' 1960s dynasty. Including the first two Super Bowls, Starr was 7-1 in championship games. The last quarterback to lead his team to three consecutive championships, Starr punctuated one of the greatest drives in NFL history with a touchdown run to end the 1967 NFL Championship Game, a game better known as the "Ice Bowl." 
13. Troy Aikman 
Key stats: 3-time Super Bowl champion; Super Bowl XXVII MVP; only QB to win 90 starts during 1990s; 11-4 postseason record; retired as Cowboys' all-time leader in passing yards and TD passes 
Why he's No. 13: Aikman was the quiet engine of one of the most powerful offenses in league history. When he wasn't handing the ball to Emmitt Smith, he was dissecting defenses with deadly accurate passes. Aikman spread the wealth while making a living getting the ball to Michael Irvin, Alvin Harper and Jay Novacek, among others. The first quarterback to win three Super Bowls before his 30th birthday, Aikman is also one of just four starting quarterbacks to own at least three Super Bowl rings. 
14. Ken Stabler 
Key stats: 1974 MVP; Super Bowl XI champion; went 96-49-1 as a starting QB; 2-time NFL leader in TD passes and completion percentage 
Why he's No. 14: The slithery Ken "Snake" Stabler was a headache for some of the most dominant defenses in league history. Along with being immensely difficult to tackle, Stabler frustrated defenses as a successful play-caller for John Madden's offense. Stabler was also extremely accurate for his time; his 66.7 completion percentage in 1976 was the second-best total in league history at the time. 
15. Fran Tarkenton 
Key stats: 1975 MVP; 3-time NFC champion; retired as NFL's all-time career passing leader 
Why he's No. 15: Scrambling Fran's exceptional mobility helped him avoid big hits while enjoying an 18-year career. His mobility also resulted in 3,674 rushing yards, 32 touchdowns and a 5.4 yards-per-carry average. After spending the middle of his career with the Giants, Tarkenton returned to Minnesota in 1972, where he led the Vikings to three Super Bowls appearances over a four-year span. 
16. Kurt Warner 
Key stats: 2-time MVP, Super Bowl XXXVI MVP; led NFL in completion percentage three straight years; led two different franchises to Super Bowl appearances 
Why he's No. 16: Warner enjoyed a meteoric rise from grocery store clerk to league MVP. His 1999 season was one for the ages; he threw for 4,353 yards and 41 touchdowns in the regular season before throwing for 414 yards and two scores in the Rams' Super Bowl win over the Titans. Warner had a similarly magical run with the Cardinals in 2008, as Arizona advanced to its first-ever Super Bowl. 
17. Y.A. Tittle 
Key stats: 1963 MVP; seven-time Pro Bowler; led three different franchises to playoff appearances 
Why he's No. 17: Tittle's career can be broken down into three parts. As a rookie, Tittle led the Colts' to the franchise's first postseason appearance. After four years in Baltimore, Tittle spent a decade in San Francisco, where he was part of the 49ers' "Million Dollar Backfield" that also consisted of John Henry Johnson, Joe Perry and Hugh McElhenny. Tittle later enjoyed a career resurgence with the Giants, where he won a league MVP award while guiding the Giants to three straight NFL Championship Game appearances from 1961-63. His 36 touchdown passes during his MVP season were the most by a quarterback in a season until 1984. 
18. Joe Namath 
Key stats: Super Bowl III MVP; two-time AFL MVP; 1974 Comeback Player of the Year; 3-time AFL/NFL leader in passing yards; pro football's first 4,000-yard passer (1967)
Why he's No. 18: Namath played a key role in the greatest upset in pro football history. Along with calling the Jets' plays, Namath played mistake-free football while completing several key passes against Baltimore's formidable defense. Namath's larger-than-life persona helped continue pro football's rise as America's No. 1 pastime. Archaic knees significantly limited his longevity and effectiveness later in his career. 
19. Warren Moon 
Key stats: 9-time Pro Bowler; 1990 Offensive Player of the Year; 2-time NFL leader in passing yards; won five Grey Cups in six seasons in CFL; third in NFL history in career passing yards at time of retirement 
Why he's No. 19: After a prolific run in the Canadian Football League, Moon flourished while leading Houston's "Run & Shoot" offense during the late 1980s and into the '90s. Moon enjoyed incredible longevity; he retired at age 44 and was a starting quarterback at age 42. His last Pro Bowl selection came during his age 41 season. When you add up his CFL and NFL numbers, Moon threw for a combined 70,553 yards and 435 touchdowns in 23 seasons. 
20. Dan Fouts 
Key stats: 1982 Offensive Player of the Year; led NFL in passing yards four consecutive years; 4,802 yards in 1982 were at the time most in league history for single season; quarterbacked league's top-ranked scoring offense three times; led Chargers to back-to-back AFC Championship Game appearances (1980-81) 
Why he's No. 20: Fouts was born to run Don Coryell's wide-open offense. He enjoyed one of the most prolific passing stretches in league annals when he led the NFL in average passing yards per game in all but one season between 1979-85. He never played in a Super Bowl, but Fouts did help lead the Chargers to a dramatic playoff win over the Dolphins in the 1981 playoffs. He also threw two fourth-quarter touchdown passes in the Chargers' 1982 playoff win over Pittsburgh, which served as the last home playoff game for the remaining members of the Steelers' 1970s dynasty. 
21. Jim Kelly 
Key stats: Only QB in NFL history to lead team to four straight Super Bowl appearances; went 101-59 as Bills starting QB in regular season; including USFL stats, threw for combined 45,309 yards and 320 touchdowns in 13 seasons 
Why he's No. 21: The conductor of Buffalo's "K-Gun" offense, Kelly and the Bills dominated the AFC during the early '90s. Despite playing in less than ideal weather conditions, Kelly led the NFL in completion percentage in 1990 and in touchdown passes in 1991. He put up jaw-dropping number during his two USFL seasons, throwing for 9,842 yards and 83 touchdowns for the Houston Gamblers that included a 5,219-yard passing season in 1984. 
22. Len Dawson 
Key stats: Super Bowl IV MVP; 3-time AFL champion; 7-time AFL leader in completion percentage; 4-time AFL leader in TD passes 
Why he's No. 22: Dawson won AFL titles with the Texans and Chiefs before leading Kansas City to the AFL's second Super Bowl win over the NFL's champion. While he wasn't as prolific following the AFL-NFL merge, Dawson was named to his seventh Pro Bowl at age 36 in 1971. In the '71 playoffs, he threw for 246 yards and a touchdown against Miami's fabled "No Name" defense in the longest game in NFL history. 
23. Norm Van Brocklin 
Key stats: 2-time NFL champion; won championships with two different franchises; 9-time Pro Bowler; 1954 NFL passing yards leader
Why he's No. 23: A gifted passer, Van Brocklin's 73-yard touchdown pass to Tom Fears lifted the Rams to a 24-17 win over the Browns in the 1951 title game. Nine years later, Van Brocklin took down another dynasty in what would be his final game. His touchdown pass to Tommy McDonald helped the Eagles defeat Vince Lombardi's Packers in the 1960 NFL Championship Game. 
24. Bobby Layne 
Key stats: 3-time NFL champion; 2-time NFL leader in passing yards; led Steelers to four of franchise's first six winning seasons; at time of retirement, Layne owned NFL career records for completions, touchdowns, passing yards and interceptions. 
Why he's No. 24: Layne led the Lions to three championships during the 1950s. Despite his success, the Lions traded the hard-charging quarterback to Pittsburgh during the 1958 season. Layne quickly made an impact in his new home, leading the Steelers to four winning seasons during his five years in Pittsburgh. Layne was credited for creating the two-minute offense. 
25. Bob Griese 
Key stats: 2-time Super Bowl champion; 8-time Pro Bowler; 92-56-3 regular season record 
Why he's No. 25: Griese quarterbacked one of the most successful teams in league history. From 1970-74, the Dolphins went 52-14-1 with Griese under center. He continued to have success later in his career despite the losses of several key teammates. Griese led the NFL in touchdown passes in 1977 and in completion percentage in 1978. 
26. Sonny Jurgensen 
Key stats: 4-time NFL leader in passing yards; 2-time NFL leader in TD passes; 255 career TD passes were second-most in league history at time of retirement; 32,224 passing yards were third-highest in league history upon retirement 
Why he's No. 26: Jurgensen started and ended his career as a backup. In between, he became the NFL's most prolific quarterback during the 1960s as far as passing yards and passing touchdowns are concerned. He had a day to remember in 1965. With Washington trailing Dallas, 21-0, Jurgensen threw for 411 yards while scoring four touchdowns to lead his team to a 34-31 victory. 
27. George Blanda 
Key stats: 1961 AFL MVP; 3-time AFL champion
Why he's No. 27: Blanda authored the most unique career in NFL history. After a brief retirement after spending most of his 10-year NFL career as a kicker and backup quarterback, Blanda returned to pro football in 1960 with the AFL's Oilers. Blanda was an immediate star in the AFL while leading Houston to the league's first two championships. At age 40, he reprised his previous role as a kicker/backup quarterback with the Raiders. He remained in that role until 1975, when he retired for good at 48 years young. 
Blanda's resume also includes leading the AFL in interceptions in four consecutive seasons. His 42 picks in 1962 remain the most in AFL/NFL history. 
28. Bob Waterfield 
Key stats: 2-time NFL champion; 2-time NFL leader in TD passes 
Why he's 28: As a rookie, Waterfield's two touchdown passes helped the Rams defeat Washington to win the franchise's first NFL title. Waterfield split time with Van Brocklin during the Rams' second championship run in 1951. He scored six points (each of them coming as the Rams' kicker) during the team's 24-17 win over the Browns in the '51 Championship Game. 
require.config({"baseUrl":"https://sportsfly.cbsistatic.com/fly-0168/bundles/sportsmediajs/js-build","config":{"version":{"fly/components/accordion":"1.0","fly/components/alert":"1.0","fly/components/base":"1.0","fly/components/carousel":"1.0","fly/components/dropdown":"1.0","fly/components/fixate":"1.0","fly/components/form-validate":"1.0","fly/components/image-gallery":"1.0","fly/components/iframe-messenger":"1.0","fly/components/load-more":"1.0","fly/components/load-more-article":"1.0","fly/components/load-more-scroll":"1.0","fly/components/loading":"1.0","fly/components/modal":"1.0","fly/components/modal-iframe":"1.0","fly/components/network-bar":"1.0","fly/components/poll":"1.0","fly/components/search-player":"1.0","fly/components/social-button":"1.0","fly/components/social-counts":"1.0","fly/components/social-links":"1.0","fly/components/tabs":"1.0","fly/components/video":"1.0","fly/libs/easy-xdm":"2.4.17.1","fly/libs/jquery.cookie":"1.2","fly/libs/jquery.throttle-debounce":"1.1","fly/libs/jquery.widget":"1.9.2","fly/libs/omniture.s-code":"1.0","fly/utils/jquery-mobile-init":"1.0","fly/libs/jquery.mobile":"1.3.2","fly/libs/backbone":"1.0.0","fly/libs/underscore":"1.5.1","fly/libs/jquery.easing":"1.3","fly/managers/ad":"2.0","fly/managers/components":"1.0","fly/managers/cookie":"1.0","fly/managers/debug":"1.0","fly/managers/geo":"1.0","fly/managers/gpt":"4.3","fly/managers/history":"2.0","fly/managers/madison":"1.0","fly/managers/social-authentication":"1.0","fly/utils/data-prefix":"1.0","fly/utils/data-selector":"1.0","fly/utils/function-natives":"1.0","fly/utils/guid":"1.0","fly/utils/log":"1.0","fly/utils/object-helper":"1.0","fly/utils/string-helper":"1.0","fly/utils/string-vars":"1.0","fly/utils/url-helper":"1.0","libs/jshashtable":"2.1","libs/select2":"3.5.1","libs/jsonp":"2.4.0","libs/jquery/mobile":"1.4.5","libs/modernizr.custom":"2.6.2","libs/velocity":"1.2.2","libs/dataTables":"1.10.6","libs/dataTables.fixedColumns":"3.0.4","libs/dataTables.fixedHeader":"2.1.2","libs/dateformat":"1.0.3","libs/waypoints/infinite":"3.1.1","libs/waypoints/inview":"3.1.1","libs/waypoints/jquery.waypoints":"3.1.1","libs/waypoints/sticky":"3.1.1","libs/jquery/dotdotdot":"1.6.1","libs/jquery/flexslider":"2.1","libs/jquery/lazyload":"1.9.3","libs/jquery/maskedinput":"1.3.1","libs/jquery/marquee":"1.3.1","libs/jquery/numberformatter":"1.2.3","libs/jquery/placeholder":"0.2.4","libs/jquery/scrollbar":"0.1.6","libs/jquery/tablesorter":"2.0.5","libs/jquery/touchswipe":"1.6.18","libs/jquery/ui/jquery.ui.core":"1.11.4","libs/jquery/ui/jquery.ui.draggable":"1.11.4","libs/jquery/ui/jquery.ui.mouse":"1.11.4","libs/jquery/ui/jquery.ui.position":"1.11.4","libs/jquery/ui/jquery.ui.slider":"1.11.4","libs/jquery/ui/jquery.ui.sortable":"1.11.4","libs/jquery/ui/jquery.ui.touch-punch":"0.2.3","libs/jquery/ui/jquery.ui.autocomplete":"1.11.4","libs/jquery/ui/jquery.ui.accordion":"1.11.4","libs/jquery/ui/jquery.ui.tabs":"1.11.4","libs/jquery/ui/jquery.ui.menu":"1.11.4","libs/jquery/ui/jquery.ui.dialog":"1.11.4","libs/jquery/ui/jquery.ui.resizable":"1.11.4","libs/jquery/ui/jquery.ui.button":"1.11.4","libs/jquery/ui/jquery.ui.tooltip":"1.11.4","libs/jquery/ui/jquery.ui.effects":"1.11.4","libs/jquery/ui/jquery.ui.datepicker":"1.11.4"}},"shim":{"liveconnection/managers/connection":{"deps":["liveconnection/libs/sockjs-0.3.4"]},"liveconnection/libs/sockjs-0.3.4":{"exports":"SockJS"},"libs/setValueFromArray":{"exports":"set"},"libs/getValueFromArray":{"exports":"get"},"fly/libs/jquery.mobile-1.3.2":["version!fly/utils/jquery-mobile-init"],"libs/backbone.marionette":{"deps":["jquery","version!fly/libs/underscore","version!fly/libs/backbone"],"exports":"Marionette"},"fly/libs/underscore-1.5.1":{"exports":"_"},"fly/libs/backbone-1.0.0":{"deps":["version!fly/libs/underscore","jquery"],"exports":"Backbone"},"libs/jquery/ui/jquery.ui.tabs-1.11.4":["jquery","version!libs/jquery/ui/jquery.ui.core","version!fly/libs/jquery.widget"],"libs/jquery/flexslider-2.1":["jquery"],"libs/dataTables.fixedColumns-3.0.4":["jquery","version!libs/dataTables"],"libs/dataTables.fixedHeader-2.1.2":["jquery","version!libs/dataTables"],"https://sports.cbsimg.net/js/CBSi/app/VideoPlayer/AdobePass-min.js":["https://sports.cbsimg.net/js/CBSi/util/Utils-min.js"]},"map":{"*":{"adobe-pass":"https://sports.cbsimg.net/js/CBSi/app/VideoPlayer/AdobePass-min.js","facebook":"https://connect.facebook.net/en_US/sdk.js","facebook-debug":"https://connect.facebook.net/en_US/all/debug.js","google":"https://apis.google.com/js/plusone.js","google-platform":"https://apis.google.com/js/client:platform.js","google-csa":"https://www.google.com/adsense/search/async-ads.js","google-javascript-api":"https://www.google.com/jsapi","google-client-api":"https://apis.google.com/js/api:client.js","gpt":"https://securepubads.g.doubleclick.net/tag/js/gpt.js","hlsjs":"https://cdnjs.cloudflare.com/ajax/libs/hls.js/1.0.7/hls.js","newsroom":"https://c2.taboola.com/nr/cbsinteractive-cbssports/newsroom.js","recaptcha":"https://www.google.com/recaptcha/api.js?onload=loadRecaptcha&render=explicit","recaptcha_ajax":"https://www.google.com/recaptcha/api/js/recaptcha_ajax.js","supreme-golf":"https://sgapps-staging.supremegolf.com/search/assets/js/bundle.js","taboola":"https://cdn.taboola.com/libtrc/cbsinteractive-cbssports/loader.js","twitter":"https://platform.twitter.com/widgets.js","video-avia":"https://vidtech.cbsinteractive.com/avia-js/1.14.0/player/avia.min.js","video-avia-ui":"https://vidtech.cbsinteractive.com/avia-js/1.14.0/plugins/ui/avia.ui.min.js","video-avia-gam":"https://vidtech.cbsinteractive.com/avia-js/1.14.0/plugins/gam/avia.gam.min.js","video-ima3":"https://imasdk.googleapis.com/js/sdkloader/ima3.js","video-ima3-dai":"https://imasdk.googleapis.com/js/sdkloader/ima3_dai.js","video-utils":"https://sports.cbsimg.net/js/CBSi/util/Utils-min.js","video-vast-tracking":"https://vidtech.cbsinteractive.com/sb55/vast-js/vtg-vast-client.js"}},"waitSeconds":300});