Cricket
Shane Warne's persona was larger than life | Cricket News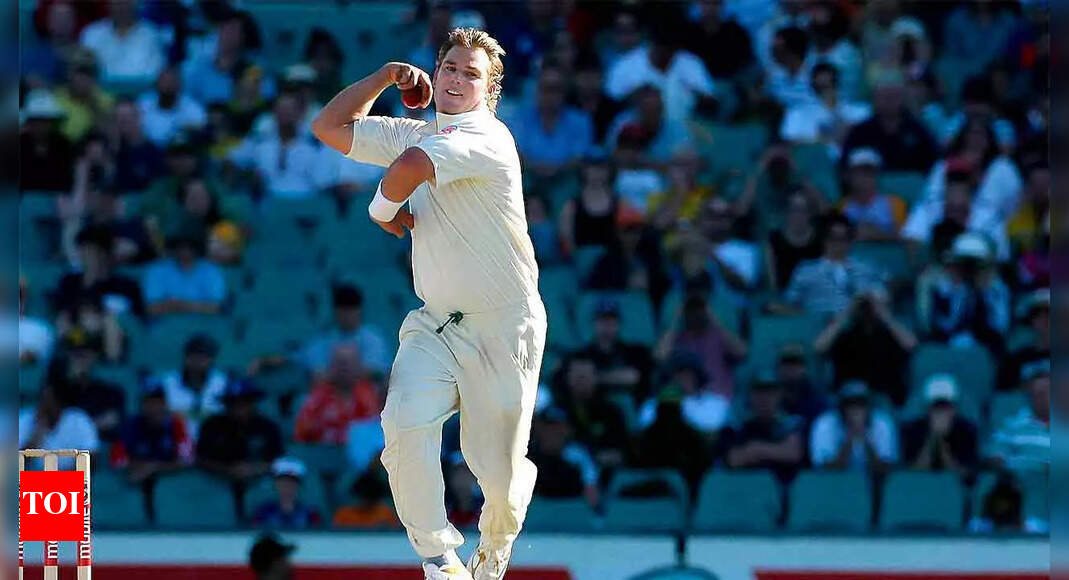 "Bowled Shayne" These words resonated through the stump microphones as they relayed to a hypnotized TV audience what Aussie wicket-keepers, Ian Healy first and then Adam Gilchrist, thought about the ball that went fizzing through the hands and wrists of the blonde magician from Ferntree Gully, Victoria, defying geometry and science.
May be because his bowling was actually art.
Ask Mike Gatting, the 'solid' English batsman and former captain, whom he bowled with his first ball on English soil at Old Trafford in 1993, with what is now famously called, 'The Ball Of The Century' as it pitched outside leg-stump and took out the off bail. Or Basit Ali, the poor man's Javed Miandad, who he kept waiting for several minutes before bowling the last ball of the day in Sydney in 1996, and probably theatrically discussing with Healy the evening's dinner plans, before eventually bowling and getting him bowled.
The dismissal made even the erudite and normally politically correct Richie Benaud, exclaim with sarcastic innuendo, "You wouldn't believe it. He's done him between his legs".
Shane Keith Warne, the man who made leg-spin bowling sexy again in the 1990s after Pakistan's maverick Abdul Qadir had done the same in the 1970s and 80s, and illuminated the cricketing stage, courtesy his arresting duels with legendary batsmen Brian Lara and Sachin Tendulkar, passed away after a heart-attack in Thailand on Friday.
Barely 12 hours before the news broke at 7 pm India time, he had tweeted his condolences mourning the death of another Aussie great, wicketkeeper Rodney Marsh. Now, on the same platform, friends and adversaries were tweeting in shock about Warne's death. One of Wisden's five cricketers of the 20th century alongside Vivian Richards, Don Bradman, Garfield Sobers and Jack Hobbs, Warne, if one could use euphemism, led a colourful life.
If it wasn't quite sex, drugs and rock and roll, it was certainly, wickets, women, wine, bookmakers, cigarettes, bets, slimy texts and injudicious use of diuretics, the latter seeing him get kicked out of the 2003 World Cup. Throw in a can or 100 of baked beans, which he feasted on during the 1998 tour of India, trading flatulence in the gut over fizz and flight in his bowling.
Warne, the best captain Australia never had, divided opinions with the off field choices he made. But he also formed them. Rodney Hogg, the former Aussie pacer saw him bowl on his First Class debut for Victoria and prophesied in his column that he will go on to play 100 Tests and take over 500 Test wickets. He was 'rewarded' with a sack for writing what the editor thought, was garbage. Ironically, the column was called The Truth.
Warne took 208 wickets more than Hogg predicted and most of those 708 sticks were tactical masterclasses, almost worthy of being on a chess board, orchestrated by a Grandmaster, where he set batsmen up for the eventual dismissal almost two overs before. South African batsman Daryll Cullinan, who Warne tormented so much that he eventually sought therapy, could vouch for that. Kiwi wicketkeeper Adam Parore used it to his advantage in an ODI against South Africa. To rile up a well-set Cullinan, he encouraged allrounder Chris Harris by saying, "Come on, Warney", only to see Harris send back Cullinan next ball. During a TV stint, Warne famously boasted to presenter and former Hampshire captain Mark Nicholas, "I don't need a pitch to get him (Cullinan) out. The grass over there will do. "
That he had a sharp and witty tongue, a larger-than-life persona and a generous streak of rebellion, made Warne the pied piper of cricket and a headline grabber. Rifts with skipper and teammate Steve Waugh and a visceral hatred for coach John Buchanan's training methods and team-bonding sessions through boot camps, often saw him challenge the norm.
Warne never believed in coaching at the senior level. Perhaps that explains why and how he inspired Rajasthan Royals, with a mix of low-key and little-known players some of whom could barely speak English, to the inaugural IPL title. Trusting players like Ravindra Jadeja, Yusuf Pathan, Swapnil Asnodkar. . . he did the unthinkable.
Why, he even forged a working relationship for the Royals with Graeme Smith, the South African skipper, for whom Warne had little or no respect during his playing days. An incident from the 2005 series in Australia where Warne walked right through a South African team huddle being addressed by Smith while puffing away on a stub, best describes their relationship. Warne was probably the most loved foreign player in India. Perhaps, his friendship and rivalry with Tendulkar, the darling of billions, endeared him to the cricket-mad public here.
No wonder Tendulkar tweeted, "You always had a special place for India & Indians had a special place for you."