NBA
USA Sports
"We got 53 Cents for every Dollar": Former Knicks GM, Isiah Thomas Appreciated Michael Jordan for Bringing The NBA Business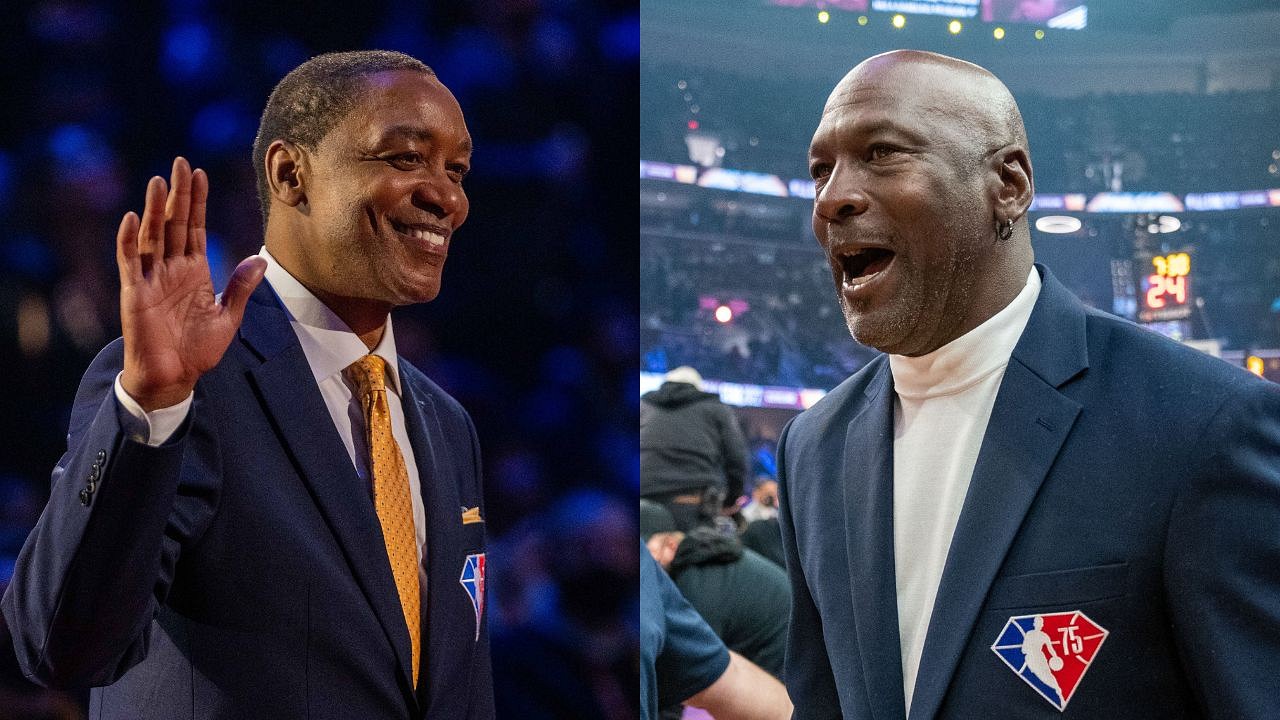 In 1984, the NBA was introduced to one of the greatest players of all time. Michael Jordan was selected as the third overall pick by the Chicago Bulls.
Along with MJ came several changes for the NBA. Not only was he a new challenger for the GOAT title, but he also brought in a whole lot of business, from sponsorships to TV deals.
Jordan's marketability proved to be a boon for the league. To this day, the business His Airness brought in is appreciated. Even by some of his most bitter rivals, like Isiah Thomas.
Also Read: Michael Jordan Averaged 37 Minutes at 39, and LeBron James is Averaging 35 at 37, Is His Durability Overrated? 
Isiah Thomas truly appreciates the business that Michael Jordan brought the NBA
The 1990s were a great time for the NBA. The league was on fire both in terms of the basketball being played and the exposure they received. All thanks, to one man, Michael Jeffery Jordan.
Jordan was the money maker for the league for more than a decade and is still making money for them. Something that former Knicks GM Isiah Thomas greatly appreciates.
Isiah Thomas on Michael Jordan

"What Michael Jordan did for the NBA, hey man we all still eating off of that"#NBA   #BullsNation pic.twitter.com/Qyo7qKcxvE

— The Jordan Rules (@Rules23Jordan) December 31, 2022
It truly is amazing to see just how much respect Zeke has for MJ. After all, the two were intense rivals for the longest time, and still share some animosity even to this day.
Zeke shares a story about how MJ's marketability meant that the players association was able to net 53 cents for every Dollar he earned in the league. His impact is why the NBA is so massive today.
There can be no denying the impact Jordan's career has had on everyone. So much so that even his sworn enemy had to give him his props.
MJ's numerous sponsorships and endorsements revolutionized the NBA
Before Michael Jordan, very few NBA players really made a big impact globally. The likes of Magic Johnson and Larry Bird were big, but Jordan takes the cake. With endorsements from Nike, McDonald's, Chevrolet, and much much more, His Airness revolutionized the game.
Michael Jordan makes more money from endorsements alone ($130M/year) than any current athlete makes from salary+endorsements, including Lionel Messi and Cristiano Ronaldo. pic.twitter.com/paJG88404c

— Basketball Forever (@bballforever_) October 14, 2020
Now sitting pretty with his $2.2 billion net worth, there can be no denying that MJ not only changed the business of basketball but the business of sports as well.
Also Read: Who Has Scored The Most Points In An NBA Game At 38 Y/o Amidst LeBron James' 47 Point Explosion?