NBA
USA Sports
"We're asking too much of Luka Doncic": Jason Kidd Concerned Over 6ft 7″ Point Guard Carrying The Weight of an Unhealthy Team 'Alone'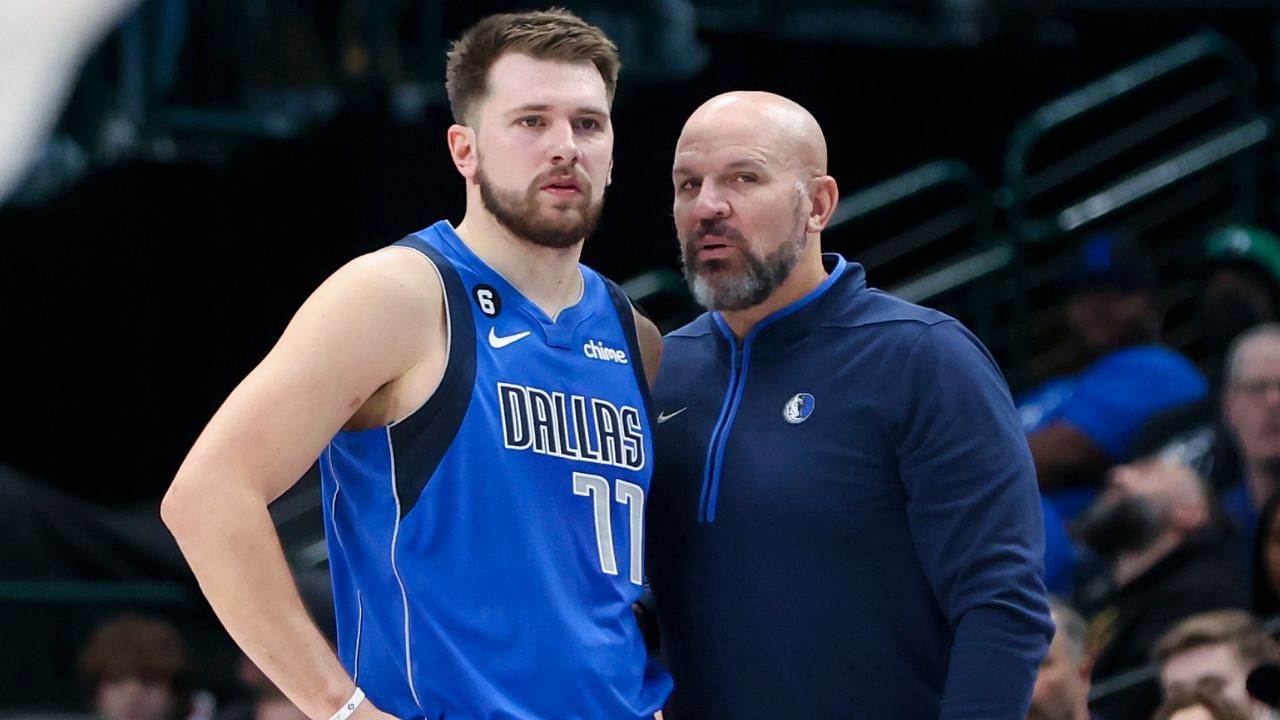 The Dallas Mavericks made the best decision of the last decade by acquiring Luka Doncic from the Atlanta Hawks. The 23-year-old Slovenian has become the face of their franchise and he has just playing just his 5th season in the league. With his recent match winning performances, the whole world is finally acknowledging the menace he is on the court. However, one man is concerned by the exceptional offense of his superstar.
Apparently. Jason Kidd, who is the head coach of Dallas Mavericks, is concerned for Luka Doncic. The Mavericks have been unlucky this season. The team has not been the healthiest and it is showing. Kidd feels that the impact of this unhealthy squad is weighing heavy on Luka Doncic.
Also read: "I'll Be Involved If Papa John's Isn't": Shaquille O'Neal Is on the Board of Directors of $2.9 Billion Worth Pizza Chain on His Terms
Jason Kidd worried about Luka Doncic
There is no denying the weight Luka is carrying at the moment. Without him, the Mavericks would have been a lot lower in the rankings they are now. But then, Luka is a certified fighter who wants to win more than anyone else, even if that means taking on the entire team's scoring load.
In his last 5 games, the former Real Madrid prodigy is averaging 45.6 points per game. In just these 5 appearances, he has recorded three games with at least 50 points scored.
For Jason Kidd, though this is cause for celebration, it is also a cause for distress. The former Mavs player turned coach understands that no matter how good you are, scoring 50+ points so frequently will definitely take a toll on your body.
After defeating Gregg Popovich's spurs, Jason Kidd noted that Luka desperately needs help.
Kidd: "We've got to get healthy here soon. We're asking too much of Luka."
Jason Kidd after Mavs needed another 50-spot from Luka Doncic to beat a bottom-two West team in clutch time: "We've got to get healthy here soon. We're asking too much of Luka."

— Callie Caplan (@CallieCaplan) January 1, 2023
The last thing the Mavs will want right now is Luka Doncic picking up an injury. Kidd's concern is justified. Although it's beyond exciting watching him register these mind blowing stats, it will also lead to exhaustion and injury if not eased soon enough.
Dallas Mavericks climb up to 4th spot in the Western Conference
By defeating the Spurs, the Mavericks have climbed up to the 4th spot. They are now one of the top 4 teams in the conference with 21 wins and 16 losses.
The sensational offensive output from Luka has kept this team in contention. But, as the trade deadline approaches, Mavs will need to find supporting players that can ease the pressure on their franchise's later superstar.
Also read: "Not Having an Affair With Phil Jackson": Despite GM Jerry West's Dislike, $500 Million Worth Jeanie Buss Set Strict Rules for Lakers HC