College Football
With the NCAA backed into a corner, the age of paying college athletes is officially upon us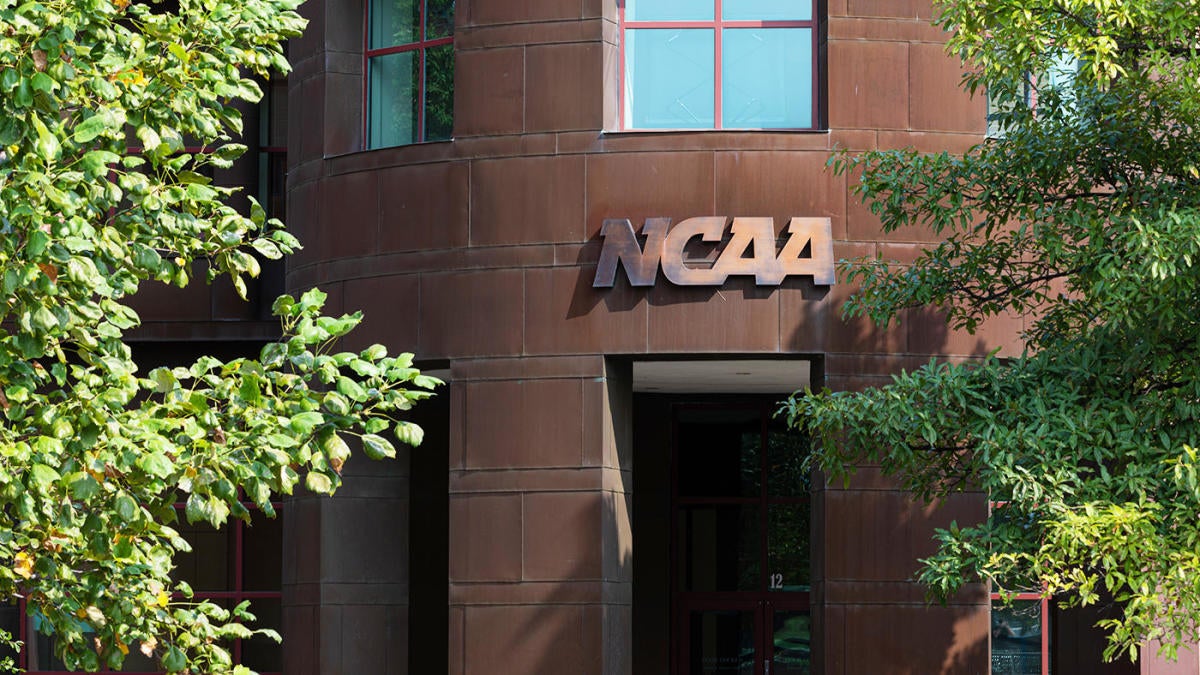 [ad_1]

College athletics, beyond just the NCAA, has been backed into a corner surrounded by barbed wire. There are few paths out. At this point, seemingly no amount of litigation or committees or legislation can deny what is inevitably coming down the tracks like a runaway train.
In some way, shape or form, athletes in the revenue-producing sports will have to be paid. Not just name, image and likeness rights or cost of attendance money, we're talking some sort of partnership with the schools for which they put their bodies on the line.
Short of Congressional intervention — a Hail Mary at this point — that's the only tenet remaining from a collegiate model that has melted away over the years like a Life Saver left out in the rain.
For many, there is little left of the innocence that drew a certain generation to the games in the first place. What has been positioned as a decisive moment this week at the NCAA Convention really serves only as background music.
What matters more are the parallel tracks carrying NIL, the transfer portal, player empowerment, a multibillion-dollar entertainment/athletic complex and a yawning lack of leadership at the top.
No rewriting of the NCAA Constitution is going to change that narrative in the short term. College athletics has not only lost a large part of whatever legal leverage it might hold to stave off pay-for-play, it has lost its way entirely.
"I do think we're probably 2-3 years away from having a different relationship with our student-athletes," said respected North Carolina athletic director Bubba Cunningham, who is entering his 27th year in athletic administration. "It won't necessarily be the student and the university. It may be employee-employer."
That means a fundamental shift in how the games are administered and consumed.
If players are paid by their schools, will that turn off fans? It hasn't so far.
Alabama quarterback Bryce Young's NIL valuation is currently third nationally at $1.8 million per year. While he's not paid directly by the school, he's still capable of becoming a multimillionaire while in college. Young won the Heisman Trophy in 2021 and is generally viewed as a football and personal success story. In other words, his earnings haven't made a difference in his on-field success. He's a winner.
"If he made $2 million, everybody in that locker room would be incredibly happy knowing he deserves everything," Cincinnati coach Luke Fickell said of his star quarterback, Desmond Ridder. "Teammates would not bat an eyelash. … They respect guys who put in the work."
College athletics is coming around to the concept because, increasingly, there is nowhere left to go. The NCAA could have begun loosening its view of compensation the moment Ed O'Bannon protested about having his image on a video game without pay. In September 2019, NCAA president Mark Emmert was still calling NIL "an existential threat".
"It would not surprise me if, 18 months from now, being employees is the only way to save this thing," said one FBS AD intimately involved in the ongoing deregulation of the NCAA.
DeMaurice Smith, executive director of the NFL Players Association, crystalized the issues last month during the Learfield Intercollegiate Athletics Forum in Las Vegas.
"Colleges and universities deciding to set up [a labor relationship with players], there's nothing at all that prevents anybody from doing it," he said. "… Why wouldn't we want to be in a world where we're dictating our own destiny?"
Veteran Oklahoma professor and reform activist Gerald Gurney just retired from a 41-year career in teaching and athletics administration. "Compensating players is not going to stop whether it's over the table or under the table," he told CBS Sports. "We're going to move forward in some fashion or another of paying players."
Bottom line in this third decade of the 21st century: Those who spent their careers building and nurturing college athletics no longer control it. That was assured in a dizzying series of developments in 2021 that forced college athletics into a corner and strung it with that barbed wire.
In Alston v. NCAA, the Supreme Court last June put the NCAA on notice by portraying athletes as employees that were being unfairly treated. That cut out a large foundation of how the NCAA operated when Justice Brent Kavanaugh wrote: "Nowhere else in America can businesses get away with agreeing not to pay their workers a fair market rate on the theory that their product is defined by not paying their workers a fair market rate. … The NCAA is not above the law."
NIL formally debuted July 1, basically unchecked, due to lack of foresight by the NCAA.
The three-year old transfer portal became the dominant element in roster management, and arguably, recruiting as well.
There is no going back to what the NCAA used to be. The association was forced to allow NIL to move forward in its current form because, in the end, it was too slow to evolve. It is now relying on — actually, it's begging — Congress for a national law regulating NIL. In the current political climate, that's unlikely to come anytime soon.
"We're going to end up with something that's a whole lot worse than a blanket set of NIL," Tulane AD Troy Dannen told CBS Sports.
The transfer portal was adopted because the NCAA couldn't defend how undergraduate athletes in 14 sports could transfer without restriction while those in so-called revenue-generating sports (football, men's and women's basketball, baseball, hockey) and had to sit out a year in waiting. That was a lawsuit waiting to come down, especially with the average non-athletic student able to transfer at will.
"You hear a lot now about, 'Hey, we've got to back off. We've got to put some windows in the [transfer] portal. It's not going backwards," Dannen said. "The transfer environment is not going to become less restrictive. We missed an opportunity to evolve."
You want to claw back some of that lost leverage? Experts suggest that next step could come as a partnership of sorts between the athletes and their schools. Collective bargaining — whether athletes are paid or not — may be the first step.
"We have graduate assistants, we have teaching assistants, we have [teaching] fellows," Cunningham said. "Universities have positions that are quasi-employees. Maybe the student-athlete will be considered something short of a full employee [with a] term sheet and benefits."
Example: Let's say players as a group — through negotiation via representation — agree to stay at school for a two-year minimum. In return, they could receive better long-term healthcare. There is already speculation that, if and when the College Football Playoff expands, there will be pressure on the CFP to fund post-eligibility health insurance from the windfall of a new media rights deal.
"We're going to unionize football," a dour Pittsburgh coach Pat Narduzzi predicted this week. "Take 20 guys [in recruiting] out of high school. Only 10 are any good. We're going to cut the other 10? If you want to start talking money, we're going to start cutting players. It's going to become a business."
A large swath of coaches, administrators and fans would suggest college athletics at its highest level has long been a business. Players are already cut — just not in the NFL way — when schools change coaches who "run off" players they don't want.
That's one reason the transfer portal evolved. Four years ago, coaches were able to dictate where a player could transfer. Now, the clout has shifted almost totally in favor of the athlete who, once in the portal, can entertain offers.
Casey Schwab, CEO of Altius Sports Partners, helps develop NIL opportunities for college athletes. He told Sportico last month that athletes will gain employee status this year in at least one of three ways: federal or state law, litigation, or through the National Labor Relations Board ruling.
"I do agree that controlling your own destiny [is preferred to] not allowing legislators, judges or lawyers [to] dictate where this lands," Schwab said. "At the very least, if it's not the right option now, ADs need to be thinking about it. Commissioners need to be thinking about it."
Unionization and the collective bargaining that would go with it has already been tested. The concept was rejected by the NLRB at Northwestern in 2015. However, a former University of Minnesota regent last year filed an unfair labor practice to the NLRB in support of reclassifying athletes as employees.
That came after NLRB general counsel Jennifer Abruzzo issued a guidance memo that could eventually lead to unionization by college athletes. Abruzzo's is a political appointment, meaning the case might have a better chance of leading to unionization backed by a pro-labor administration in Washington, D.C.
Those who counter with the reminder of a free education in the form of a scholarship have allowed the narrative to escape them. Gurney has long said there is difference between getting a degree and getting an education.
"I think, at one point, the athlete is going to have to be given a choice between going to school and getting a real education or don't bother them with this eligibility nonsense," said Michael Hsu, that Minnesota regent. "To pretend they are really students is flagrant. It's a fraud."
The lasting impression — at least for some lawyers — is that athlete income is still being capped by NCAA restrictions. Perhaps the only way out is for the schools to become partners with the athletes.
"You know what this is coming down to, don't you?" one college athletics consultant asked. "It's coming down to two things: collective bargaining or Congress."
Partnering with players may be the best option available as the corner college athletics has backed itself into looks more like a strait jacket. An NIL bill isn't likely to emerge from a divided Congress representing a divided country anytime soon. Unions won't work in some states because of right-to-work laws.
So, why not explore revenue-sharing and group licensing agreements? Those are currently against NCAA rules, but a meaningful version of the NCAA may not exist in a few months. Now that a new constitution is set to be ratified, there is a significant business of deregulation.
To rely on Congress to oversee and regulate athletics seems lazy. Several sources shared a be-careful-what-you-wish-for warning regarding potential federal intervention.
"If Congress is going to get involved, they're going to take away nonprofit status from [schools] that are giving $10 million salaries," one FBS AD said. "There is no nonprofit in the world that would be allowed to be a nonprofit with $10 million at the top of their food chain."
Basically, get ready for "anything goes".
The NCAA Transition Committee will manage the details. It is chaired by SEC commissioner Greg Sankey and Ohio AD Julie Cromer. Scholarship limits could go up if only because the Power Five can afford it. The influence of NCAA enforcement could fade as conferences take more control.
FBS membership is up for discussion. By Aug. 1 when the new constitution is supposed to take effect, there might not be 130 schools at the top level. ACC commissioner Jim Phillips pointed last week to this as one reason his conference is presently opposed to expanding the CFP to 12 teams.
The transition committee's responsibility is significant. College athletics will continue to deregulate. NIL and the transfer portal came about precisely because the NCAA was too restrictive.
"The transfer portal is cliché," Sankey said. "The transfer portal is raising your hand and saying, 'I'm over here.' There's a lot of people that never come out. There are a lot of people looking for the next opportunity that doesn't materialize."
And that's perhaps not going to change without mediation, a partnership, collective bargaining and/or a union. Maybe a combination of them all.  
If football and basketball players are paid directly, that will run straight into Title IX concerns. Title IX is the 1973 federal law that mandates equal opportunities for an underrepresented gender at institutions that receive federal money. That discriminated gender has mostly referred to women. Simply put, the market value of Young and a women's cross-country athlete are different.
By the letter of the law, each should get an equal salary.
The Knight Commission suggested solution in December 2020: The FBS would break away as a separate entity and be funded by the CFP. The NCAA would be left with what it does best, running a heck of a basketball tournament each March.
That would address a long-standing frustration among other divisions that the FBS — especially the Power Five conferences — has a weighted NCAA voting advantage, particularly on revenue distribution. That despite the NCAA not sponsoring a championship at the FBS level.
"If you pull football out and govern it separately, basketball will be right behind it in 15 seconds and the NCAA will go away," Dannen said. "I'm scared to death of that particular model."
Whatever happens, some thin thread that links the entire enterprise to education must be maintained. College athletics can't be just one giant Disney corporate investment.
One concept being floated is allowing athletes to get academic credit for playing their sports. Why not? Regular students get credit for studying abroad in their chosen major.
Once again, the NCAA has lost the moral high ground. It thumbed its nose at academic integrity four years ago in the North Carolina case. The NCAA has watched standardized test scores previously needed for admission fade away. Penalties for underachieving in the Academic Progress Rate have unfairly targeted historically Black colleges and universities.
"The young kids taking your tickets are sports administration majors," Cunningham said. "They're getting credit for working the game. The athletic trainer down on the field, they're getting credit because they're an athletic trainer. The band is getting credit because they're in music and on the field at halftime. The video people are getting credit because they're working for the ACC Network. The only person not getting credit is the kid playing the game."
A lot of this would be an admission that the traditional collegiate model doesn't work in an era of litigation and … common sense.
NIL benefits have gotten so unregulated that many of the outlandish benefits provided to SMU players 45 years ago in the death penalty case would be allowed in 2021. Slush fund? Allowed if you consider current "collectives" of donors pooling their NIL money to lure players. Free cars? Quarterback Spencer Rattler had two of them last season at Oklahoma.
"The Spencer Rattlers always had two cars [in the past]. It was in a different way," Dannen said. 
That different way was described recently by College Football Hall of Fame running back Eric Dickerson, an SMU superstar in the 1980s.
"You're a youth athlete, 19-years-old, and a guy comes to you and says, 'Here's $20,000.' You don't say, 'Oh no, I can't take that money,'" Dickerson told CBS Sports.
"What they did to my school is bullshit. They would never have done that to Alabama. They would never have done that Texas. They would have never done that to Oklahoma."
Many would argue the business side has been growing for decades. The amount of unregulated money that bubbled up after conference rights fees increased dramatically following the landmark NCAA v. Board of Regents case in 1984.
That decision deregulated college football, creating a pot of previously unavailable money resulting from monster media rights agreements. In turn, that caused realignment as conferences scrambled to get the best brands (schools) under their tent. It was no shock that high-powered lawyers and their accompanying 30% fees began to shape the new landscape.
That uneven terrain has been used by the ACC as a reason to stall College Football Playoff expansion. The 69-year-old league isn't a standalone in defending the academic component as athletic departments more closely resemble Fortune 500 businesses. But it's worth noting the reaction by critics when the ACC stood its ground for foundational concepts such at player safety and academics.
The new NCAA Constitution to be ratified this week is another example of the association being backed into that corner. The same document that was once used to effectively shutter Penn State football amid the Jerry Sandusky scandal promises to become a much sleeker, less-intrusive document.
With sleeker comes its own set of problems. The current environment cannot endure. Perhaps a new landscape where the sun never sets on the paid athlete is the future.
If the NCAA is the membership, as Emmert continues to remind us, then the membership is pissed. The transfer portal has been described over and over as the Wild, Wild West. NIL took effect without much oversight. Healthcare is lagging considering the NCAA is on record as saying it has "no legal duty to protect student-athletes".
There's a way to regulate it: Form a partnership with the players who fill the stadiums and generate the revenue.
"We just have to figure it out," Cunningham said. "… How do you stop it? We're not going to stop it. All we have to do is figure out how to finance it."
require.config({"baseUrl":"https://sportsfly.cbsistatic.com/fly-0141/bundles/sportsmediajs/js-build","config":{"version":{"fly/components/accordion":"1.0","fly/components/alert":"1.0","fly/components/base":"1.0","fly/components/carousel":"1.0","fly/components/dropdown":"1.0","fly/components/fixate":"1.0","fly/components/form-validate":"1.0","fly/components/image-gallery":"1.0","fly/components/iframe-messenger":"1.0","fly/components/load-more":"1.0","fly/components/load-more-article":"1.0","fly/components/load-more-scroll":"1.0","fly/components/loading":"1.0","fly/components/modal":"1.0","fly/components/modal-iframe":"1.0","fly/components/network-bar":"1.0","fly/components/poll":"1.0","fly/components/search-player":"1.0","fly/components/social-button":"1.0","fly/components/social-counts":"1.0","fly/components/social-links":"1.0","fly/components/tabs":"1.0","fly/components/video":"1.0","fly/libs/easy-xdm":"2.4.17.1","fly/libs/jquery.cookie":"1.2","fly/libs/jquery.throttle-debounce":"1.1","fly/libs/jquery.widget":"1.9.2","fly/libs/omniture.s-code":"1.0","fly/utils/jquery-mobile-init":"1.0","fly/libs/jquery.mobile":"1.3.2","fly/libs/backbone":"1.0.0","fly/libs/underscore":"1.5.1","fly/libs/jquery.easing":"1.3","fly/managers/ad":"2.0","fly/managers/components":"1.0","fly/managers/cookie":"1.0","fly/managers/debug":"1.0","fly/managers/geo":"1.0","fly/managers/gpt":"4.3","fly/managers/history":"2.0","fly/managers/madison":"1.0","fly/managers/social-authentication":"1.0","fly/utils/data-prefix":"1.0","fly/utils/data-selector":"1.0","fly/utils/function-natives":"1.0","fly/utils/guid":"1.0","fly/utils/log":"1.0","fly/utils/object-helper":"1.0","fly/utils/string-helper":"1.0","fly/utils/string-vars":"1.0","fly/utils/url-helper":"1.0","libs/jshashtable":"2.1","libs/select2":"3.5.1","libs/jsonp":"2.4.0","libs/jquery/mobile":"1.4.5","libs/modernizr.custom":"2.6.2","libs/velocity":"1.2.2","libs/dataTables":"1.10.6","libs/dataTables.fixedColumns":"3.0.4","libs/dataTables.fixedHeader":"2.1.2","libs/dateformat":"1.0.3","libs/waypoints/infinite":"3.1.1","libs/waypoints/inview":"3.1.1","libs/waypoints/jquery.waypoints":"3.1.1","libs/waypoints/sticky":"3.1.1","libs/jquery/dotdotdot":"1.6.1","libs/jquery/flexslider":"2.1","libs/jquery/lazyload":"1.9.3","libs/jquery/maskedinput":"1.3.1","libs/jquery/marquee":"1.3.1","libs/jquery/numberformatter":"1.2.3","libs/jquery/placeholder":"0.2.4","libs/jquery/scrollbar":"0.1.6","libs/jquery/tablesorter":"2.0.5","libs/jquery/touchswipe":"1.6.18","libs/jquery/ui/jquery.ui.core":"1.11.4","libs/jquery/ui/jquery.ui.draggable":"1.11.4","libs/jquery/ui/jquery.ui.mouse":"1.11.4","libs/jquery/ui/jquery.ui.position":"1.11.4","libs/jquery/ui/jquery.ui.slider":"1.11.4","libs/jquery/ui/jquery.ui.sortable":"1.11.4","libs/jquery/ui/jquery.ui.touch-punch":"0.2.3","libs/jquery/ui/jquery.ui.autocomplete":"1.11.4","libs/jquery/ui/jquery.ui.accordion":"1.11.4","libs/jquery/ui/jquery.ui.tabs":"1.11.4","libs/jquery/ui/jquery.ui.menu":"1.11.4","libs/jquery/ui/jquery.ui.dialog":"1.11.4","libs/jquery/ui/jquery.ui.resizable":"1.11.4","libs/jquery/ui/jquery.ui.button":"1.11.4","libs/jquery/ui/jquery.ui.tooltip":"1.11.4","libs/jquery/ui/jquery.ui.effects":"1.11.4","libs/jquery/ui/jquery.ui.datepicker":"1.11.4"}},"shim":{"liveconnection/managers/connection":{"deps":["liveconnection/libs/sockjs-0.3.4"]},"liveconnection/libs/sockjs-0.3.4":{"exports":"SockJS"},"libs/setValueFromArray":{"exports":"set"},"libs/getValueFromArray":{"exports":"get"},"fly/libs/jquery.mobile-1.3.2":["version!fly/utils/jquery-mobile-init"],"libs/backbone.marionette":{"deps":["jquery","version!fly/libs/underscore","version!fly/libs/backbone"],"exports":"Marionette"},"fly/libs/underscore-1.5.1":{"exports":"_"},"fly/libs/backbone-1.0.0":{"deps":["version!fly/libs/underscore","jquery"],"exports":"Backbone"},"libs/jquery/ui/jquery.ui.tabs-1.11.4":["jquery","version!libs/jquery/ui/jquery.ui.core","version!fly/libs/jquery.widget"],"libs/jquery/flexslider-2.1":["jquery"],"libs/dataTables.fixedColumns-3.0.4":["jquery","version!libs/dataTables"],"libs/dataTables.fixedHeader-2.1.2":["jquery","version!libs/dataTables"],"https://sports.cbsimg.net/js/CBSi/app/VideoPlayer/AdobePass-min.js":["https://sports.cbsimg.net/js/CBSi/util/Utils-min.js"]},"map":{"*":{"adobe-pass":"https://sports.cbsimg.net/js/CBSi/app/VideoPlayer/AdobePass-min.js","facebook":"https://connect.facebook.net/en_US/sdk.js","facebook-debug":"https://connect.facebook.net/en_US/all/debug.js","google":"https://apis.google.com/js/plusone.js","google-platform":"https://apis.google.com/js/client:platform.js","google-csa":"https://www.google.com/adsense/search/async-ads.js","google-javascript-api":"https://www.google.com/jsapi","google-client-api":"https://apis.google.com/js/api:client.js","gpt":"https://securepubads.g.doubleclick.net/tag/js/gpt.js","newsroom":"https://c2.taboola.com/nr/cbsinteractive-cbssports/newsroom.js","recaptcha":"https://www.google.com/recaptcha/api.js?onload=loadRecaptcha&render=explicit","recaptcha_ajax":"https://www.google.com/recaptcha/api/js/recaptcha_ajax.js","supreme-golf":"https://sgapps-staging.supremegolf.com/search/assets/js/bundle.js","taboola":"https://cdn.taboola.com/libtrc/cbsinteractive-cbssports/loader.js","twitter":"https://platform.twitter.com/widgets.js","video-avia":"https://vidtech.cbsinteractive.com/avia-js/1.9.0/player/avia.min.js","video-avia-cvui":"https://vidtech.cbsinteractive.com/avia-js/1.9.0/legacy/cvui/cvui.min.js","video-ima3":"https://imasdk.googleapis.com/js/sdkloader/ima3.js","video-ima3-dai":"https://imasdk.googleapis.com/js/sdkloader/ima3_dai.js","video-utils":"https://sports.cbsimg.net/js/CBSi/util/Utils-min.js","video-vast-tracking":"https://vidtech.cbsinteractive.com/sb55/vast-js/vtg-vast-client.js"}},"waitSeconds":300});


[ad_2]

Source link